Severe Storm Forecasting – Tornadoes Tuesday?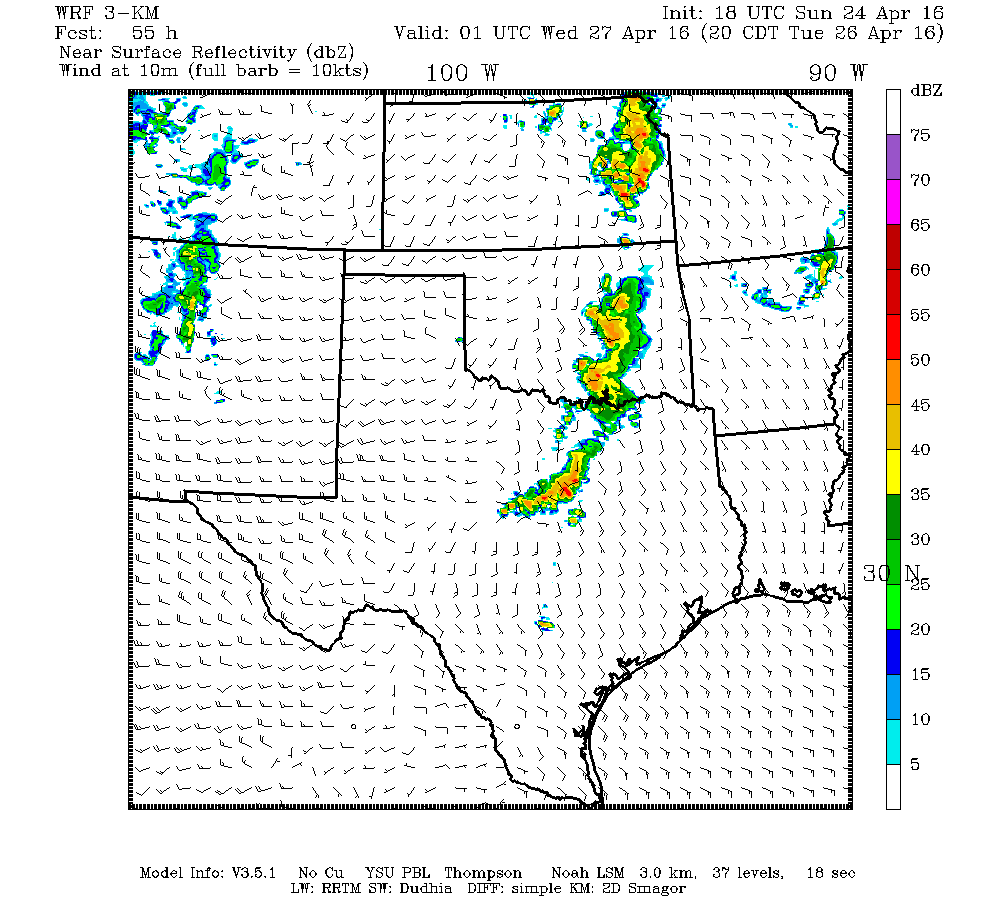 First off, a quick word about Monday. A weak frontal boundary will work into C OK during the day and the atmosphere will be extremely unstable. However, winds at various levels are weak, there is no significant upper or mid level forcing, and the CAP is strong, indicating surface temperatures would have to climb to around 90 to break it. That doesn't look possible tomorrow, so unless something crazy happens, the CAP should hold and storms won't fire. For whatever reason should they develop, C OK would be in the region of interest. If it looks like that will happen, I'll let you know tomorrow.
BTW the CAP is a term used to describe a temperature inversion layer of warm air a couple of thousand feet up. It prevents storms from forming by limiting the buoyancy of parcels of air trying to rise up through it.
So what does Tuesday look like? You've heard a lot of chatter which I won't get into here. I always caution listening to anything a week or several days away from an event. A lot can happen and many things the models will miss. I've preached that the 36 hour window is when we can really get inside the atmosphere and see what it can do. Let's dive into one of the high resolution computer models to see what it's telling us.
This is the WRF 3km run by Texas Tech. A great mesoscale model and typically does an excellent job.
The first thing we're going to look at is the dewpoint map. You hear the term dryline and yes we'll have one, but there is a problem, it may not setup as the classic hard line separating moist air from dry air. The true dryline is in the purple colors on this map in W OK. However there is dry air working down ahead of the dryline with a southwest wind. This is bringing in 40 degree dewpoints into C OK replacing the 60+ dewpoints needed for storms to form. Other models have hinted at this happening for days now. So if any storms do form, they'll have to be just on the east side of I-35 in the surface moisture.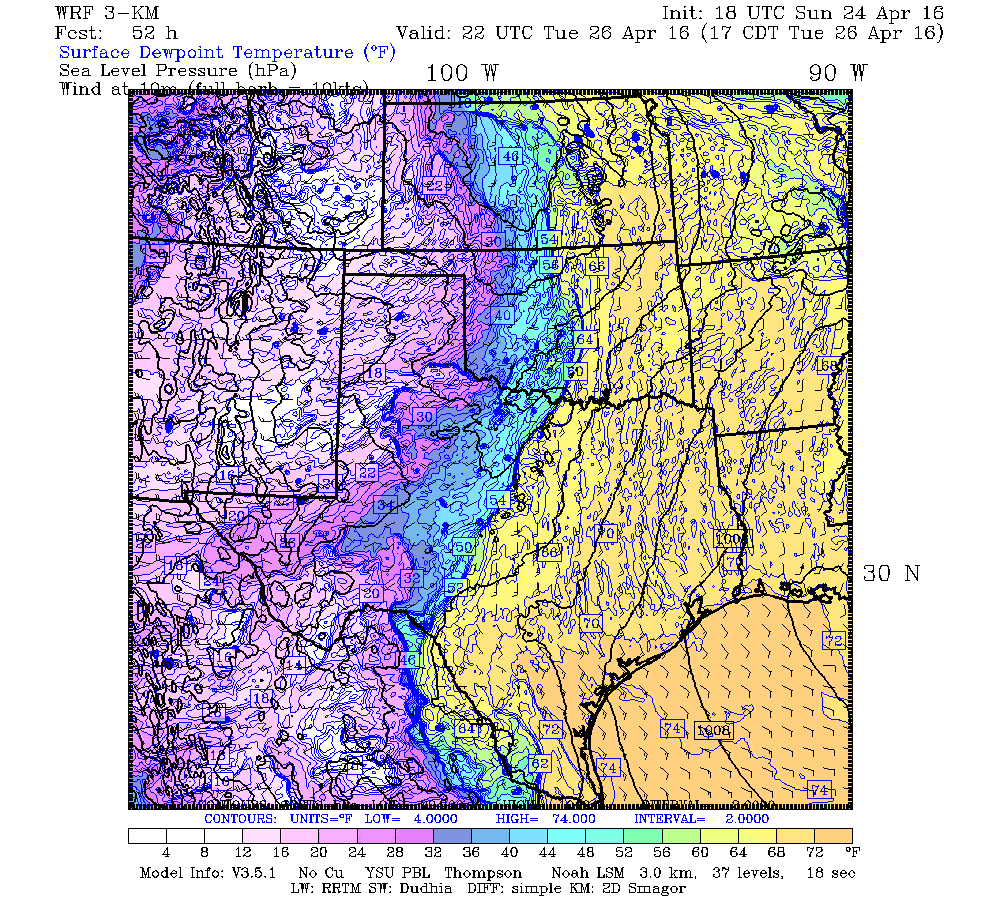 Now lets look at the surface winds. Notice the SW wind vectors from C to W OK. That prevents convergence along the true dryline so storms can't fire out west anyway. Plus there's no good convergence along the I-35 corridor either. You need those winds to meet, a SW wind into a SE wind.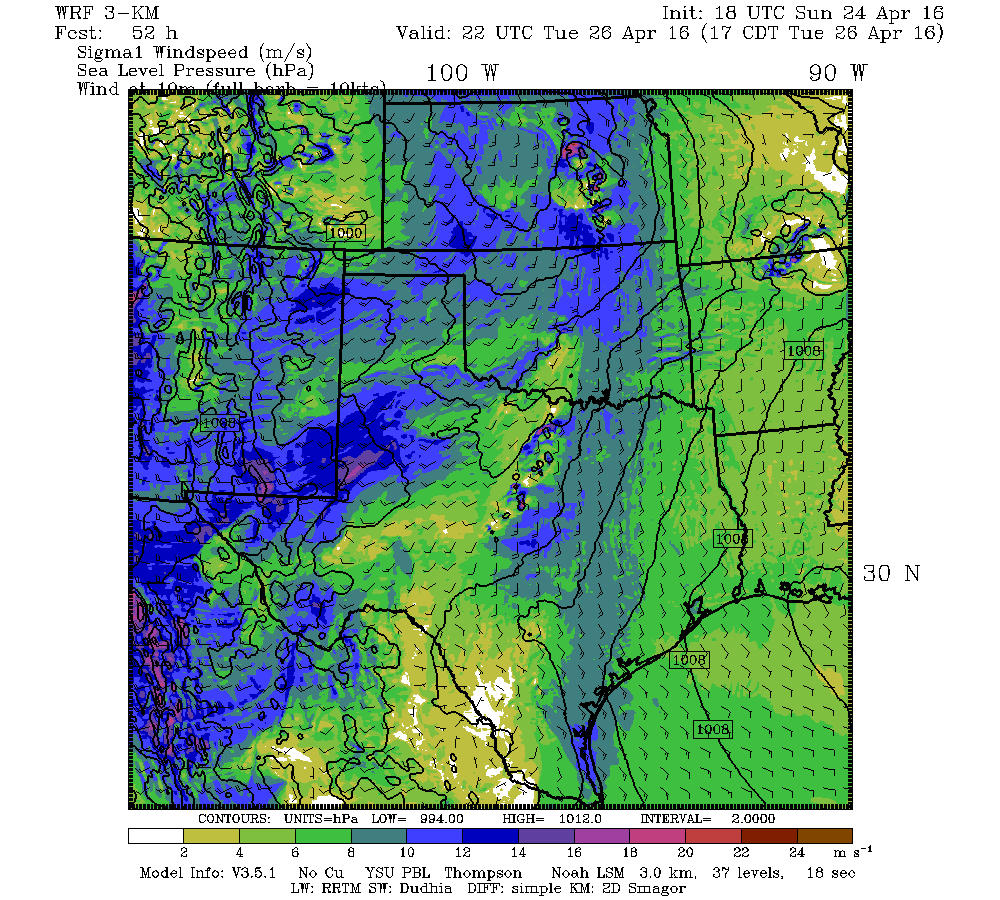 So with a SW wind and drier air, that causes the bases of the clouds to lift very high. This model suggests 3000 meters. You really need them to be below 1000 meters for tornadoes, which happens once you get E of I-35.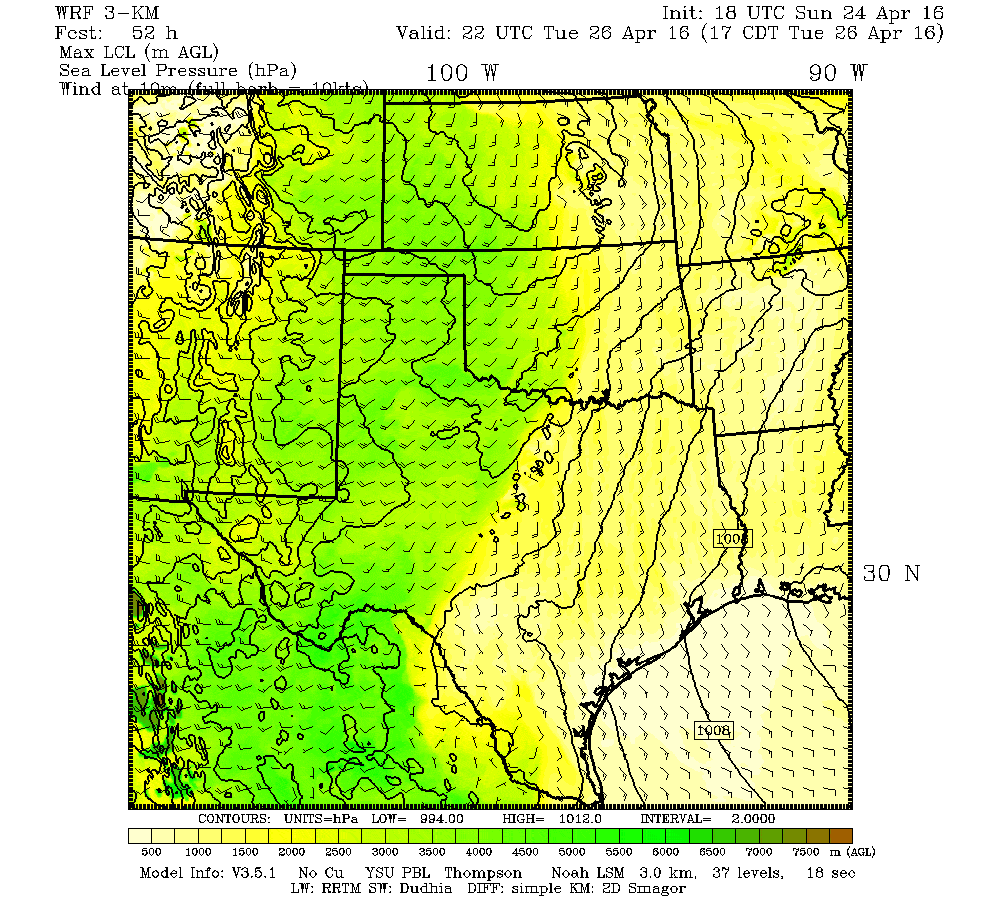 So where is the instability for storms? This map shows the CAPE values and they're off the chart once again E of I-35 in the moisture.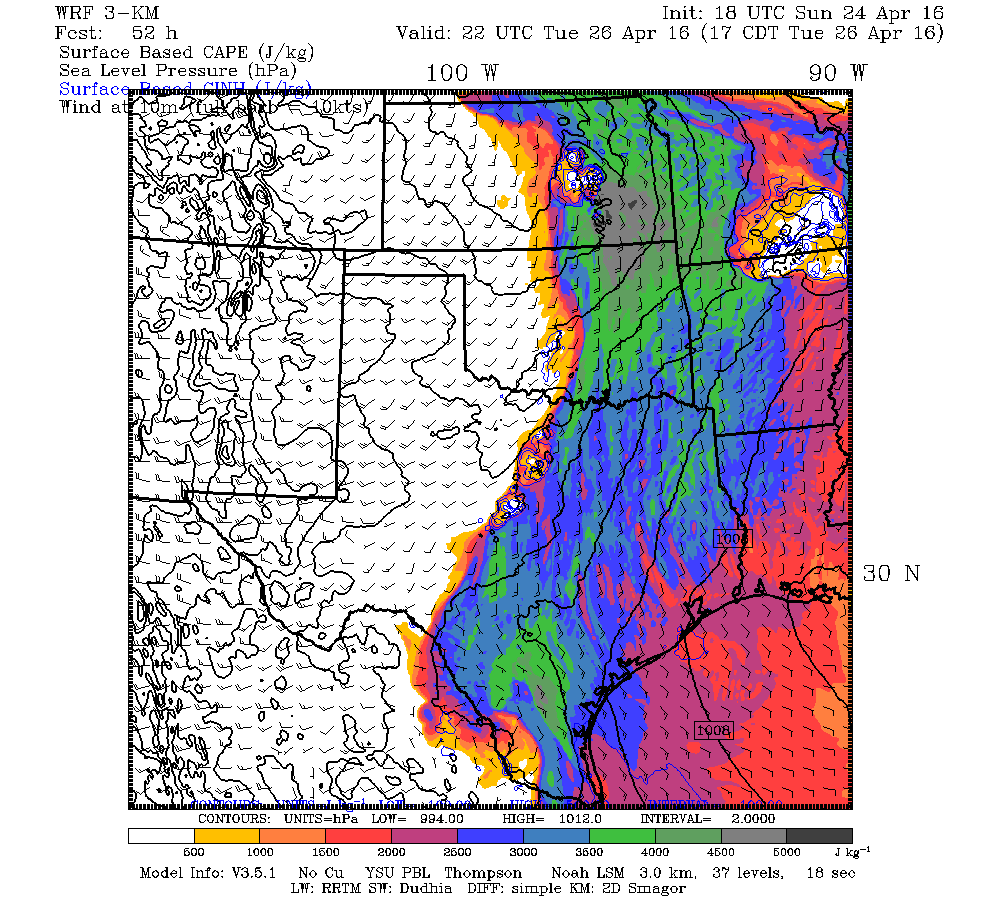 Finally a sounding for the OKC area shows how dry the lower atmosphere is in this situation with a large temperature and dewpoint depression (green and red lines near the bottom).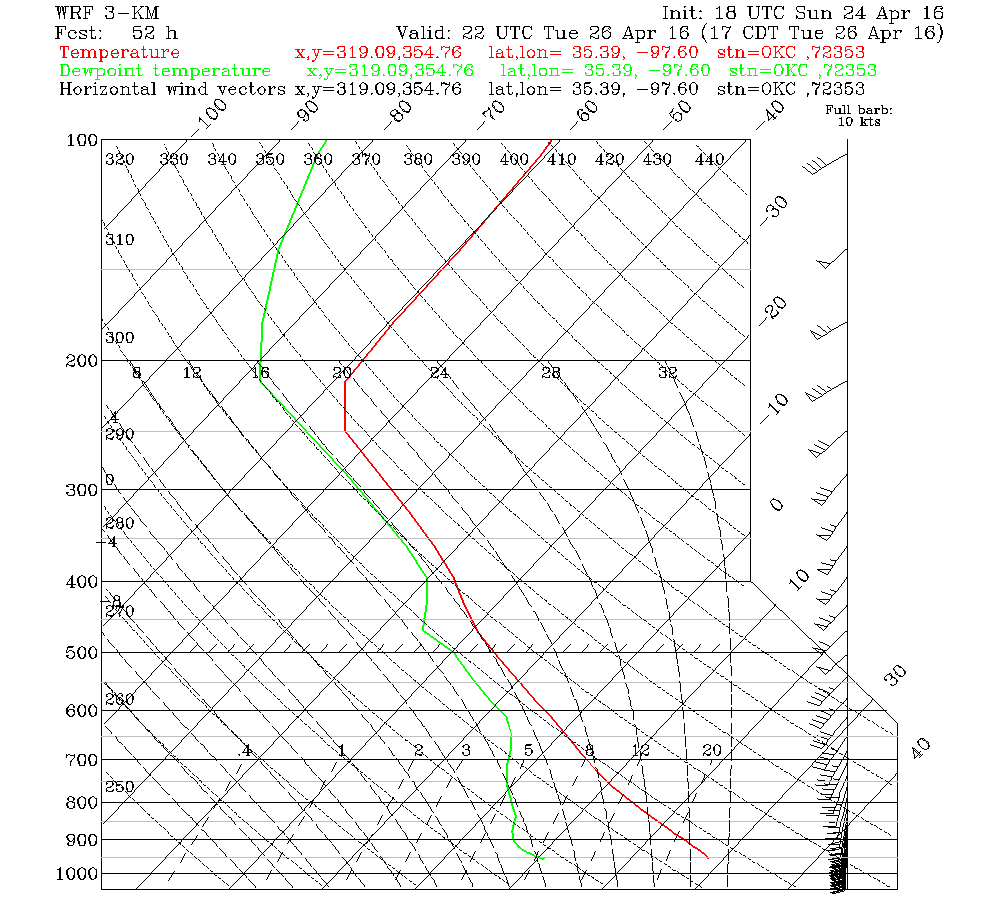 So what does all this mean according to the model? It means storms are 1) going to have a hard time firing in C OK. 2) Any that do fire will fair better in E OK under the better moisture. According to the forecasted radar image late afternoon, a cluster of severe storms will develop in this area. So from E KS to E OK to DFW, that would be the zone according to this one model to watch for supercell storms producing large hail, damaging winds and tornadoes.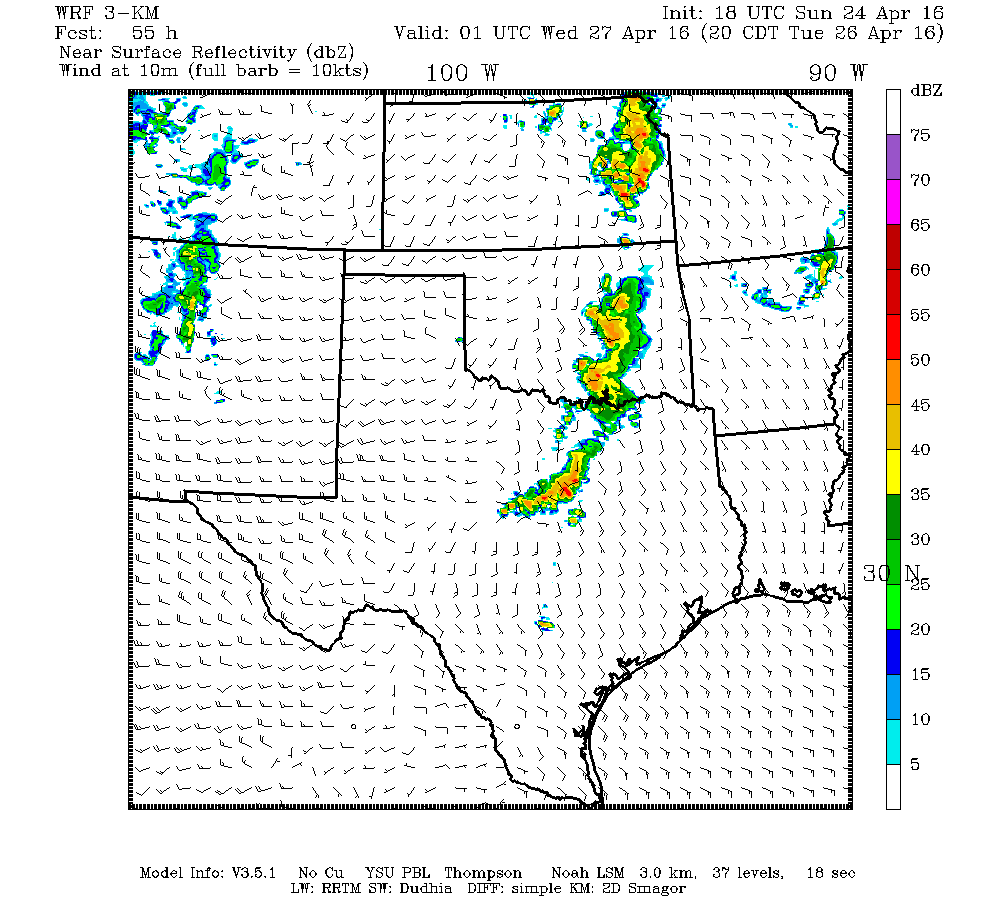 So will everything evolve just like this? It's hard to say at this point. We need more data in that precious 24-36 hour window to start fine tuning the details and see if more models agree with the solution above. Time will tell and I'll of course update you as things become more clear. -AT