Tornadoes Still Expected Today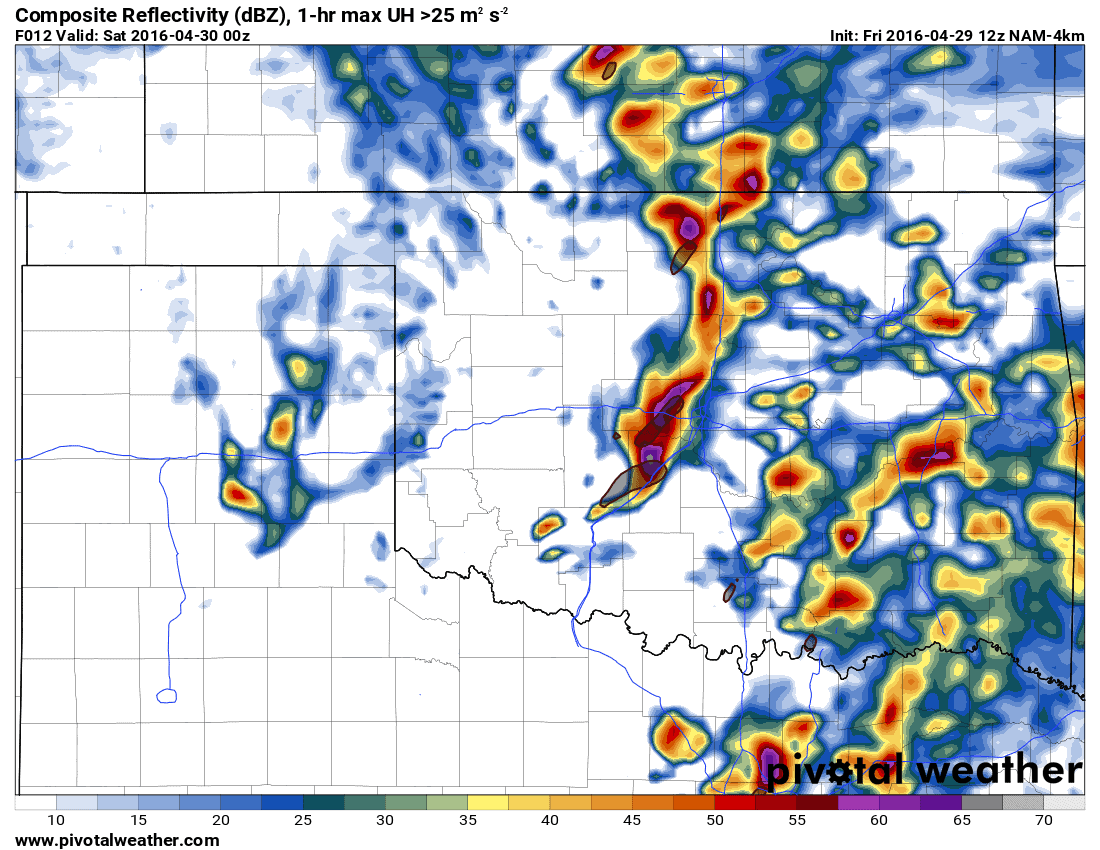 So things have become as clear as mud regarding today. The rain will continue to migrate NNE and the warm front will move into SC OK with the main low/triple point near the TX border. A meso-low is forecasted to move from around Lawton NE to the SW side of the greater OKC metro by 4pm. This meso-low should bring a puesdo warm front N into the metro and back the surface winds to the E/SE. This would then place the OKC metro in a favorable zone for supercell storms capable of producing tornadoes, and that's exactly what the hi-res models indicate as shown below. The most likely time frame is going to be after 4pm and possibly as late as 6 or 7pm. However, that said, just stay alert for any storm that develops nearby after 3pm. We're talking about a small window of opportunity as it is and don't need to get into the minutia of trying to nail down the exact minute.
If the meso-low doesn't form or isn't as strong as models indicate, then the tornado potential stays anchored into SC/SE OK and N TX. So those are the two scenarios to play out. Obviously if you're in the greater OKC metro area you'll want to be in tune with the weather in case the first scenario unfolds. It's hard to say but I'm cautiously leaning that direction. Regardless there will be severe weather in the state again this afternoon/evening with large hail and damaging wind.
 [su_spacer size="10″]
So stay weather aware today and make a plan to seek shelter should you find the need. Have adequate methods of getting severe weather information, NOAA WX Radio, TV, smart phone apps such as mine, ATsWeatherToGo. All provide life-saving information.
If you do use mine, you must setup the SAF-T-Net option and enter your locations you want to be warned for. It will alert you to dangerous storms using proprietary algorithms before official warnings come out. Make sure you have your phone's location services enabled as well. GPS, etc.
 [su_spacer size="10″]
I'll be streaming live coverage from my website/app should it look like tornadoes are imminent. You can also watch live storm chasing with Oklahoma Storm Chasers on the same link: https://aarontuttleweather.com/live/
 [su_spacer size="10″]
Thanks and be safe today everyone! -AT
 [su_spacer size="10″]
Models indicting greatest tornado potential via parameters around 4-7pm posted below.