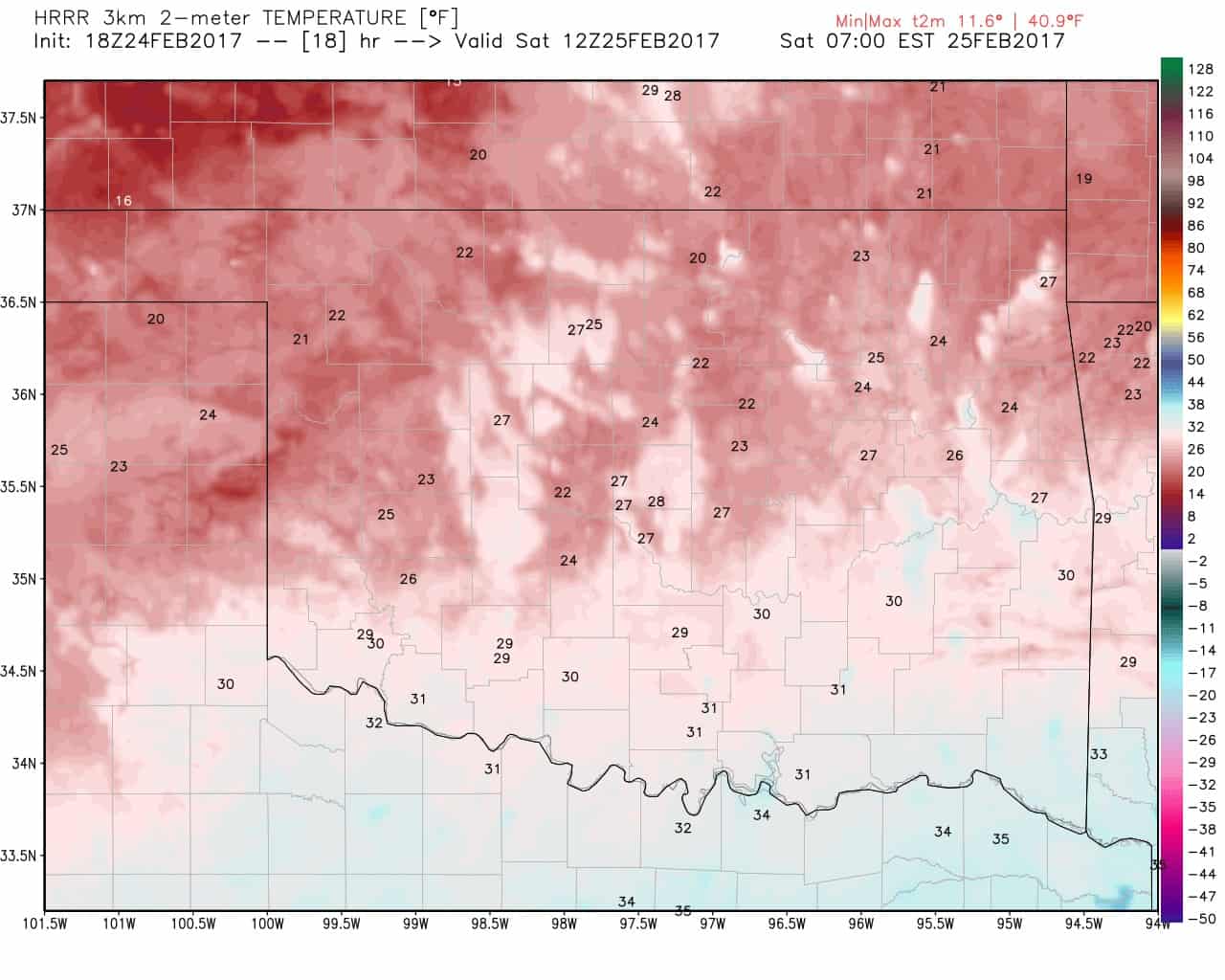 Long Range Outlook
 [su_spacer size="10″]
Don't get excited about the warm February and start planting early! March will not be kind! Multiple cold fronts will move through the southern plains and provide many mornings with below freezing temperatures across Oklahoma.
 [su_spacer size="10″]
Our first freeze is this Saturday morning as indicated by the map below. Models are hinting that many upcoming days will have morning lows below freezing: 2nd, 7th, 8th, 13th, 17-19th and 27th. Now, not all of these may pan out, but it gives you an idea that we're not done with the cold.
 [su_spacer size="10″]
 [su_spacer size="10″]
As far as precipitation goes, rain returns Sunday night/Monday for mainly the eastern half of Oklahoma. Another round of light rain (or snow) will move through on the 11th and 19th of March. However, March rainfall looks to be low overall, which won't help the fire season or drought. Hopefully April will turn that around.
 [su_spacer size="10″]
As far as severe weather season goes, it typically kicks off March 15th and lasts until June 15th. It may be delayed a bit starting out, but it should end up being slightly above normal in activity.
 [su_spacer size="10″]
To prepare, make sure you download my free weather app, ATsWeatherToGo at iTunes and Google Play. You need to set up Saftnet to receive the early warnings and enter the locations of those of importance; schools, work, family, etc. One of the things my app does that other's can't, is predict tornadoes several minutes before they develop. This gives you and your family more time to seek shelter. Please share! -AT