Cristobal is making landfall on this Sunday evening as a strong tropical storm. The remnants will move to the NNW over Louisiana and Arkansas. Far eastern Oklahoma will receive a little bit of rain with the storm while other parts of the state see slightly cooler temperatures and a little cloud cover.
The west coast trough that is helping to keep Cristobal from drifting too far into Oklahoma, is driving in a decent cold front into the state on Tuesday. This front will cool things down significantly in the afternoon verses the first half of the day. So while temperatures fall W/C Oklahoma, they may rise ahead of the front in E OK during the afternoon. The cool air will moderate rather quickly as the upper level ridge builds back in overhead by the end of the week. After that, get ready for heat, and lots of it! The extended forecast is shown for Oklahoma City, but as always add a couple of degrees to these numbers in W OK and subtract a couple for E OK due to humidity levels.
The drought is continuing to build this month. Ironically, the long-range drought outlook isn't horrendous. That's doesn't really say much though, as that forecast is based on the summer seasonal forecast where will supposedly have slightly above normal temperatures and slightly above normal precipitation. I have my doubts on all of this, as typically long-range seasonal outlooks rarely show any significant skill level.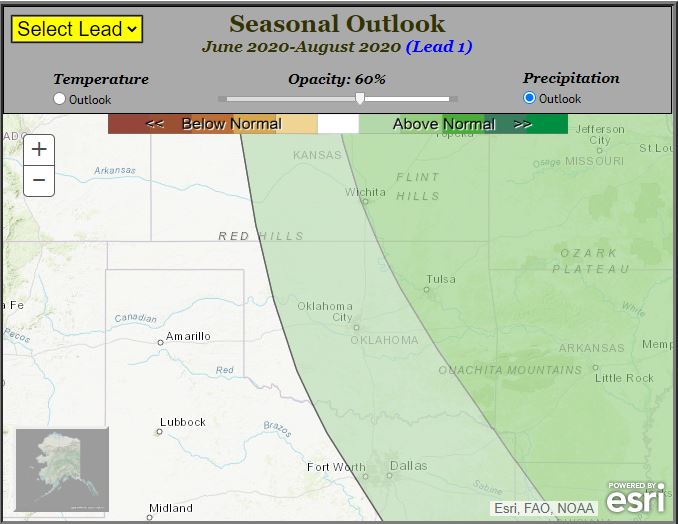 Summer outlook for rainfall.[/caption]
All hope is not lost in this pattern. There will be at least a couple of days in the extended outlook that will have a few storms. Two favored areas are across W OK around the 11th, and in N OK the next day or a few days later. The upper pattern isn't locked in for good, as there are signs that the last week of June will bring additional rainfall. Plus there is always the tropics to keep an eye on! -AT