High Fire Danger with Two Rounds of Rain This Week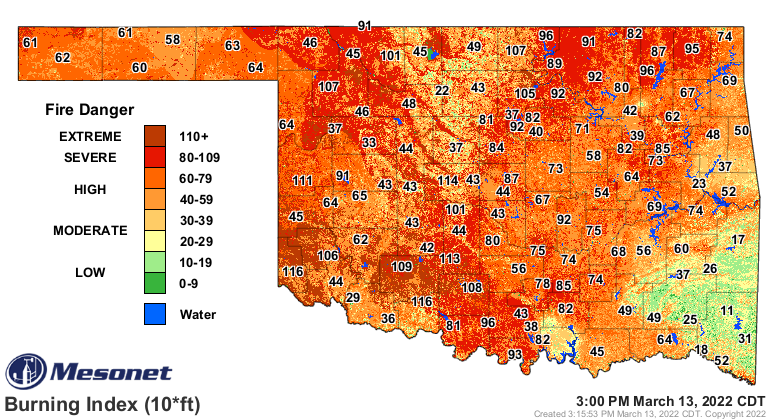 [et_pb_section fb_built="1″ _builder_version="4.14.8″ _module_preset="default" global_colors_info="{}"][et_pb_row _builder_version="4.14.8″ _module_preset="default" global_colors_info="{}"][et_pb_column type="4_4″ _builder_version="4.14.8″ _module_preset="default" global_colors_info="{}"][et_pb_text _builder_version="4.14.8″ _module_preset="default" hover_enabled="0″ global_colors_info="{}" sticky_enabled="0″]
We're in that awkward time of the year where the fire danger kicks into high gear for a few weeks, until the grass starts growing, and our Spring rains come. We do have a couple of opportunities for rain this week, and yet another beyond this week, as Spring officially begins.
The drought is hanging tough as well and continues to slowly expand. The Burning Index shows how much of the state is under that critical fire danger territory. The higher the scale indicates the more intense the fire and the harder it is to control.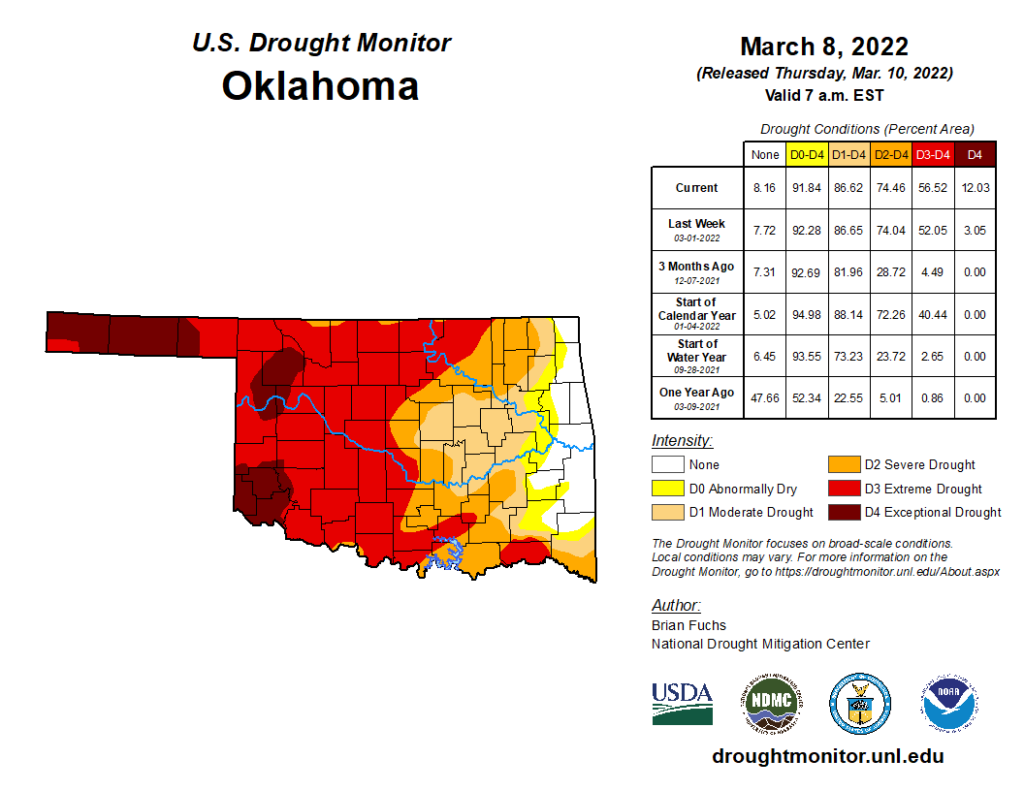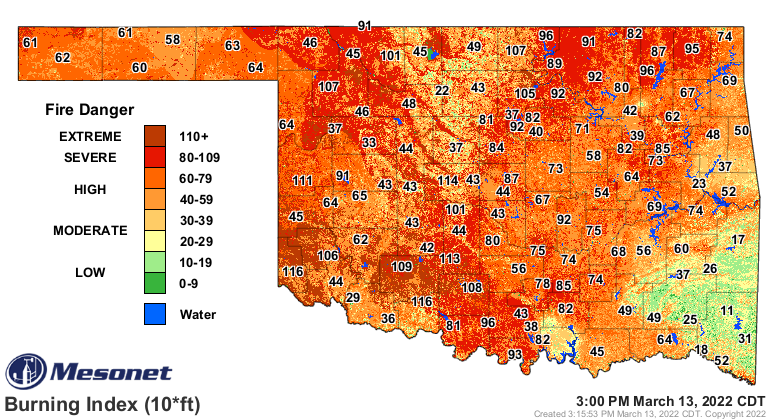 The Jetstream shows 3 systems coming to Oklahoma. The first arrives Monday, the second Thursday, and the last the following Monday. Rain will accompany each system. Although position and timing dictates who and how much. Remeber, the stronger the lift, the brighter and more concentrated the colors on the map.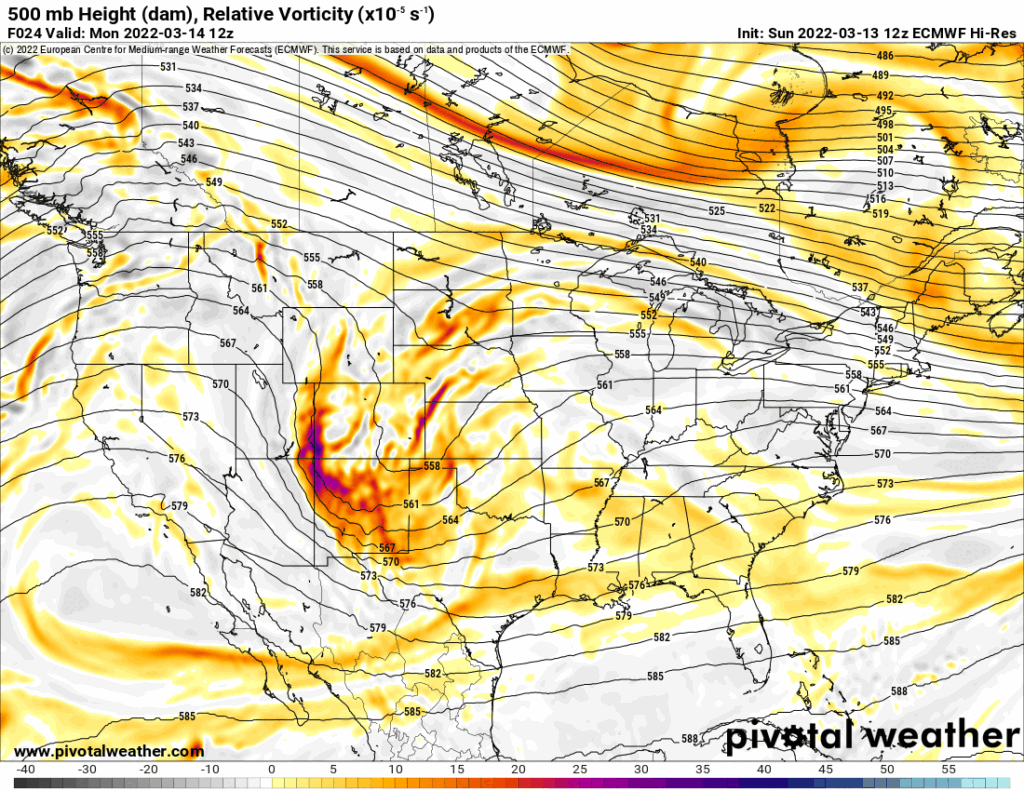 The first system mainly affects the E half of OK on Monday. A few light passing showers or glorified sprinkles will move through the I-35 corridor mid afternoon, but anything significant will only occur across SE OK, as most of the energy and moisture is focused into NE TX.  It will be windy as all get-out though with gusts as high as 50 mph early Monday before the cold front moves through switching the south winds to the north by late in the day.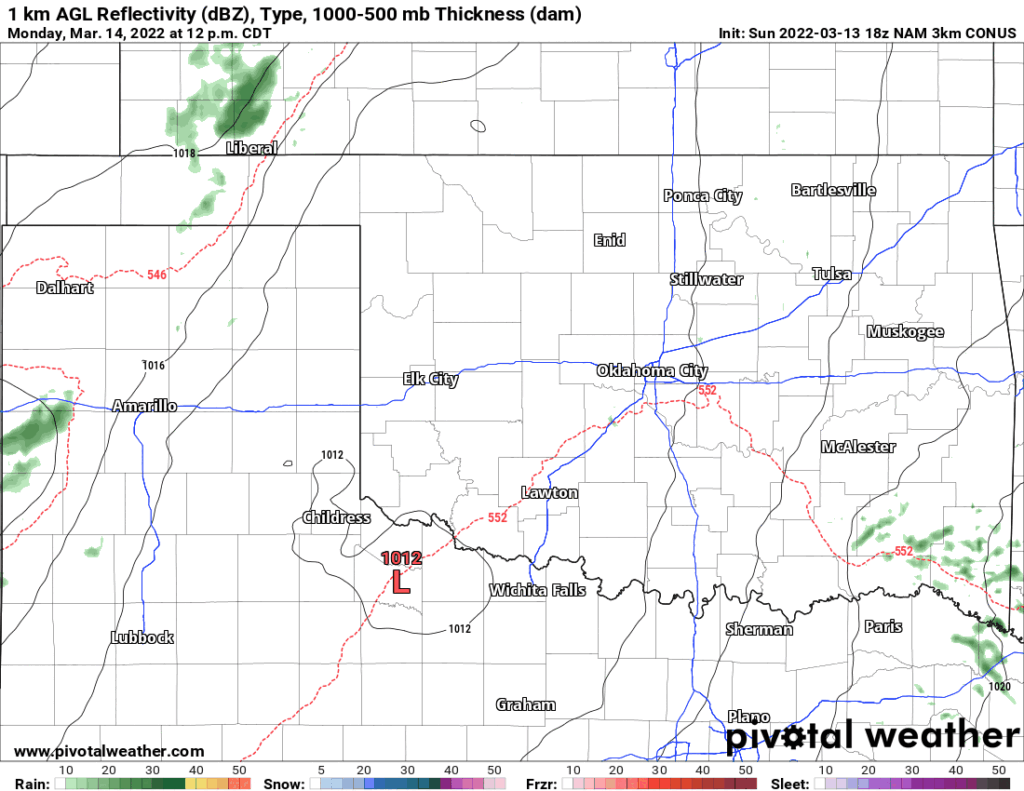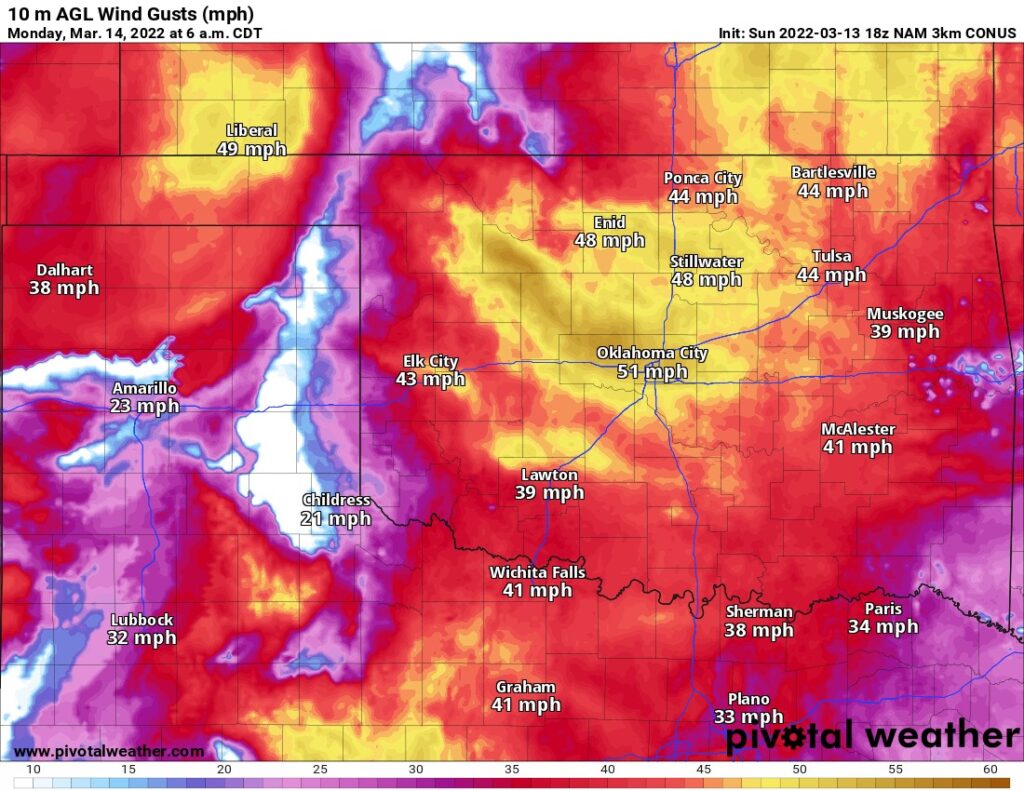 The next system moves through on Thursday. As of today, any severe weather potential appears to be confined to N TX just across the Red River. If you were to smooth out the rainfall data from both systems, you'll get higher amounts in the north and east through the week.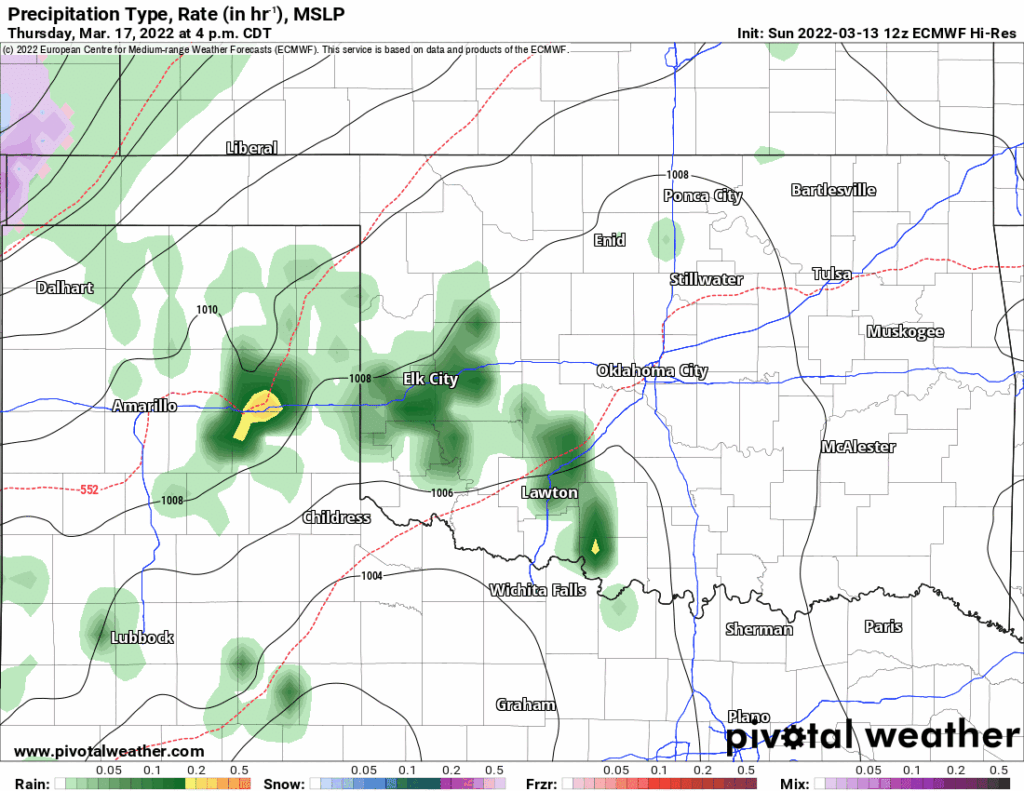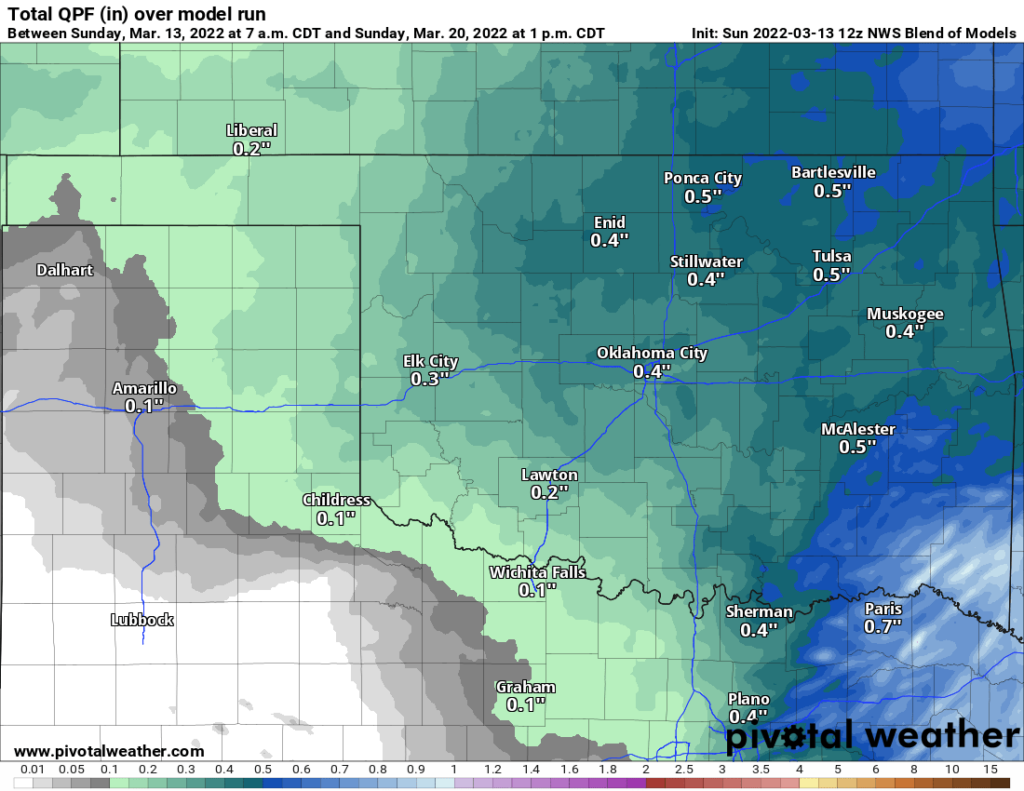 Temperatures appear to be much more mild now as we get further away from winter. No sign of anymore snow on the horizon for now with the exception of a few flakes in the Panhandle. -AT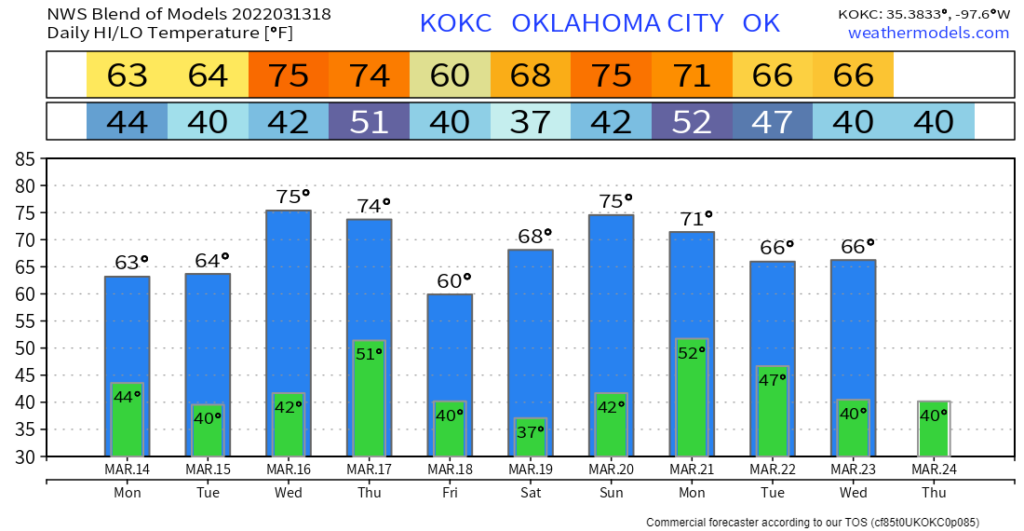 [/et_pb_text][/et_pb_column][/et_pb_row][/et_pb_section]