Severe Storms and Record Heat This Week
[et_pb_section fb_built="1″ _builder_version="4.17.0″ _module_preset="default" global_colors_info="{}"][et_pb_row _builder_version="4.17.0″ _module_preset="default" global_colors_info="{}"][et_pb_column type="4_4″ _builder_version="4.17.0″ _module_preset="default" global_colors_info="{}"][et_pb_text _builder_version="4.17.0″ _module_preset="default" hover_enabled="0″ global_colors_info="{}" sticky_enabled="0″]
The highlight of the week will be record heat with a few showers and storms to cool things down temporarily. The highlight for the upcoming weekend may end up being record cool high temperatures thanks to a strong cold front Friday night.
Sunday the eastern half of the state will deal with severe weather, including very large hail, damaging winds and a tornado or two. After that, the next significant round of severe weather is Friday afternoon with a cold front. In-between we'll have spotty and random showers and storms due to a westerly flow in the Jetstream bringing occasional disturbances (areas of color on the map) across to trigger the activity. Timing will be difficult, but our next round will be Tuesday morning and again Tuesday evening. After that a little spotty. So make sure you use my free weather app, ATsWeatherToGo, to track radar and daily forecast conditions. Overall rainfall amounts from the global models aren't that impressive, but they don't handle severe thunderstorm downpours either. So some isolated areas will pick up 4″ of rain. Just beyond this weekly outlook is a heavy round of storms Sunday night into Monday the 23rd. So looking forward to that outcome of more widespread rain.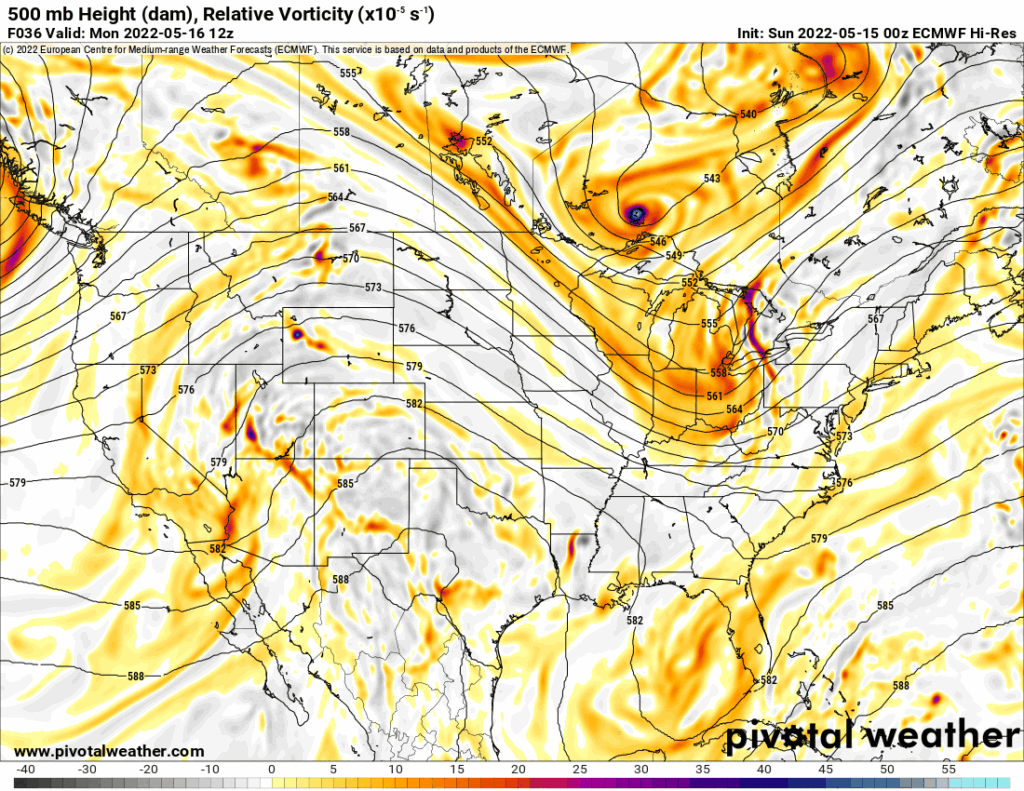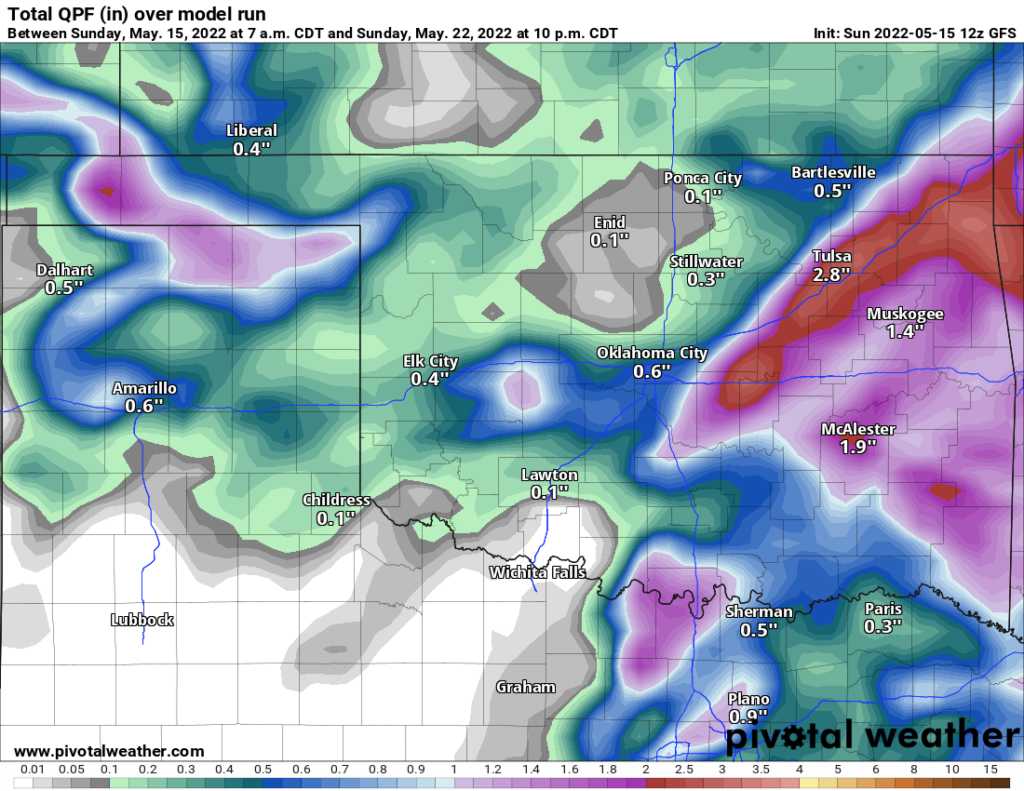 The other story is the heat. The European model really cranks it up by midweek. Tap to animate.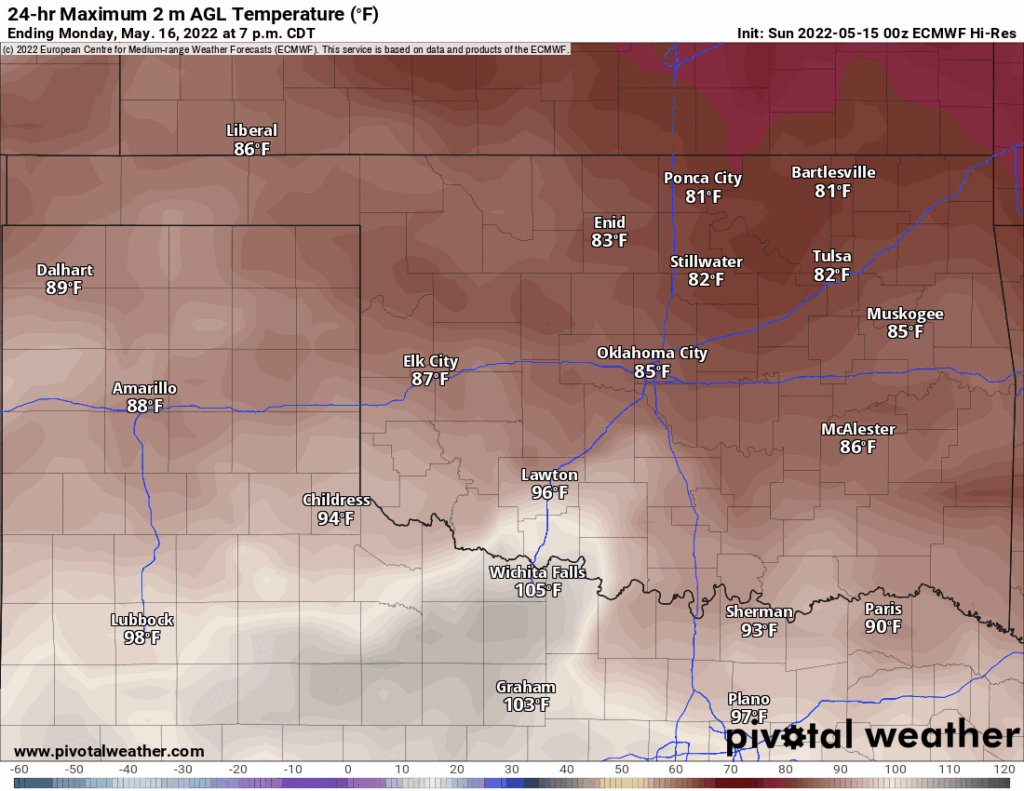 The temperature trend here in OKC from the blend of the models is to heat it up, then cool it down by next weekend. So stay hydrated and apply the sunscreen!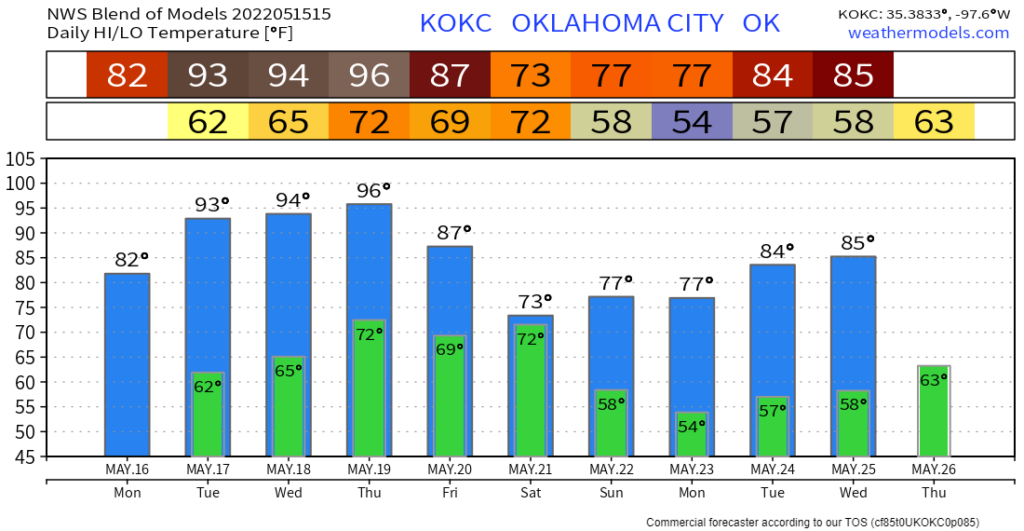 One more thing before I go. Many of you know I stay very busy. An entrepenuer nevere rests. So in that fashion I decided to parter up with my wife Jodi who is a real estate agent. She's been in the business for over 12 years and recently got licensed here in Oklahoma. So please keep us in mind when it comes time to sell and buy your next home. You can reach out to her anytime and follow our Facebook page here: Team Tuttle Realty -AT
[/et_pb_text][/et_pb_column][/et_pb_row][/et_pb_section]