There is so much to talk about with so many elements to the forecast this week. I'm going to highlight just the big ones and encourage you to follow me on social media for faster updates and utilize my free weather app, ATsWeatherToGo, to track radar and temperatures in your region. Also one of the most popular pages on my website during big winter events is the multi-state road conditions for travel.
The big pictures shows the track of the Jetstream moving directly across Oklahoma. If that track can shift a little bit more west (and south), we'll get more snow later this week. The marked area of interest is where most of the snow will fall as it looks today. To gain a perspective on how cold this airmass is by the end of the week, look at the temperature anomaly. In some cases this is 50 degrees below normal. As far as records go, OKC would have to hit a low of -8 degrees Friday morning to tie it from 1989.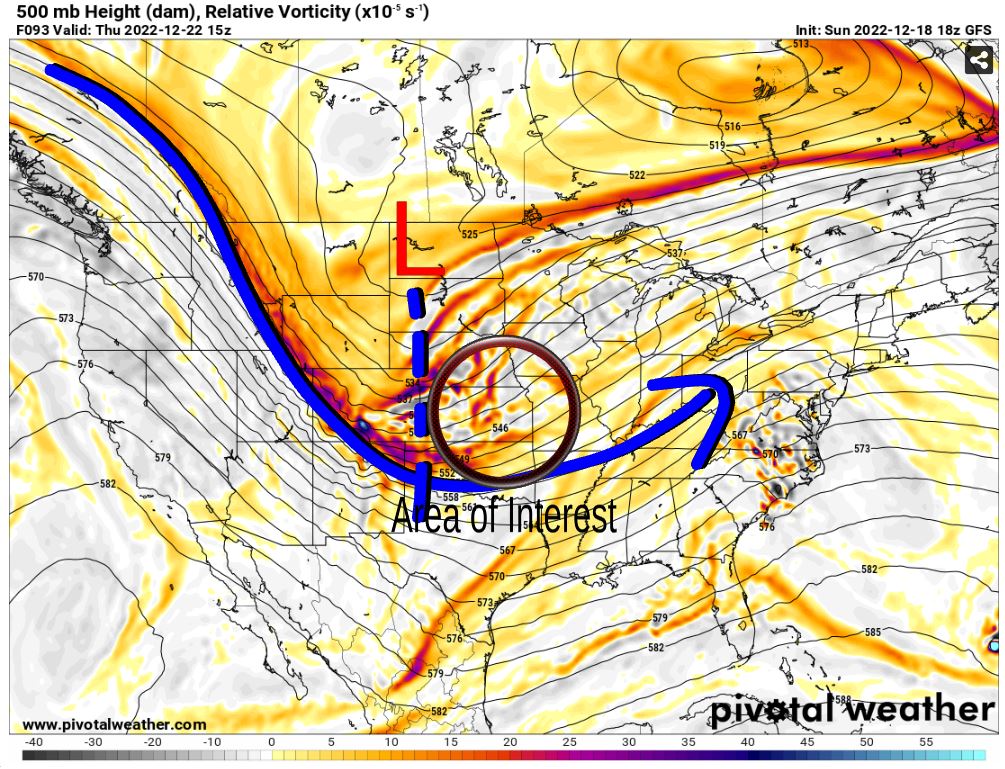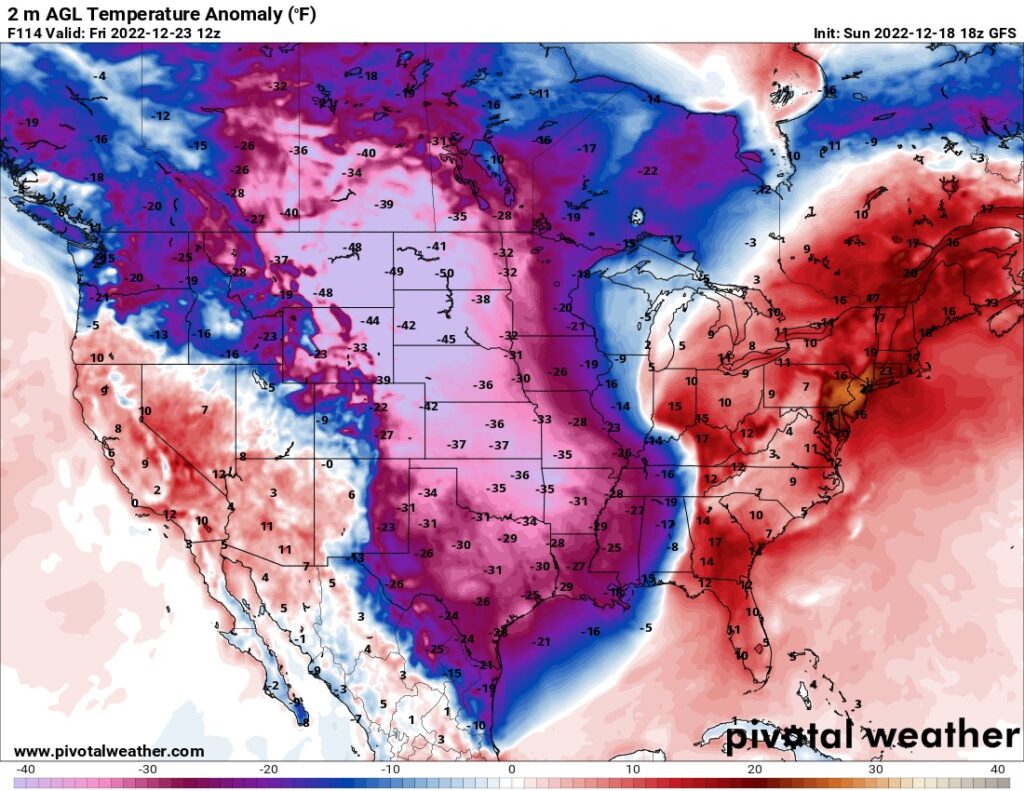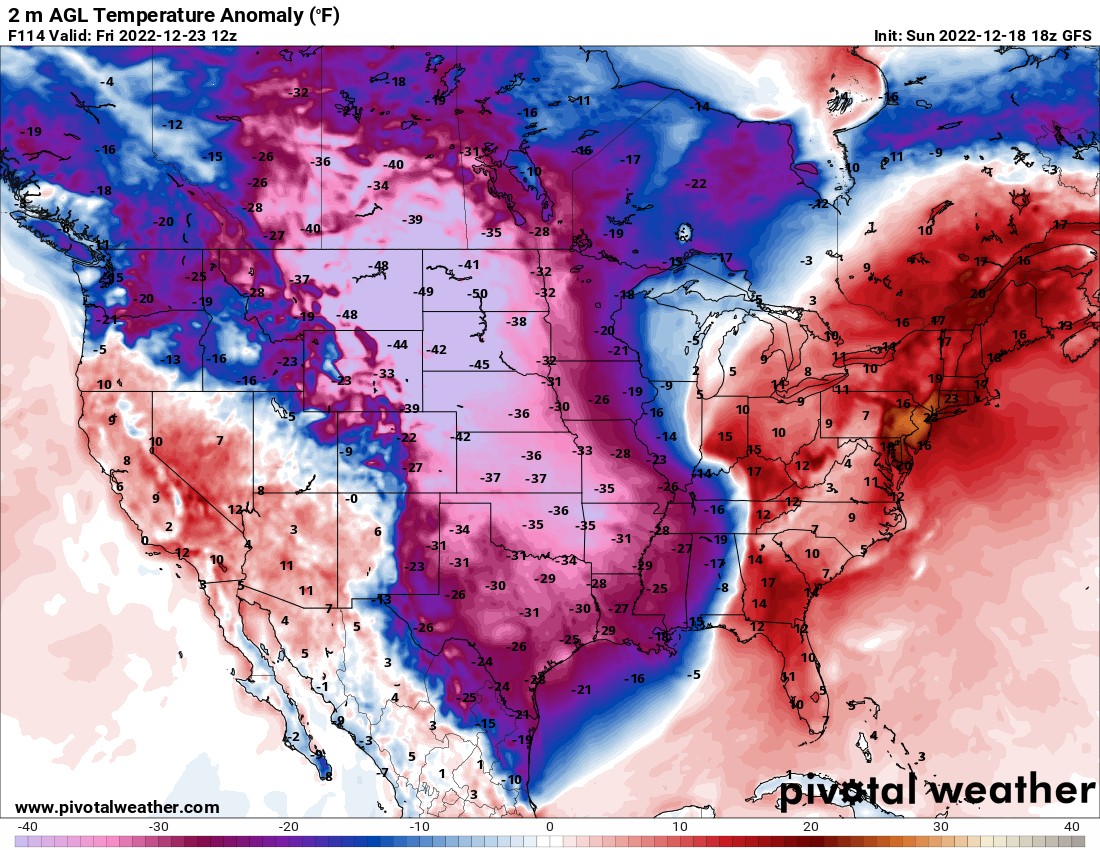 Up first we have a weak moisture starved upper level disturbance moving across early Monday morning to start the week. At most expect some sprinkles here in C OK with light showers N/NE OK. There may be a few flurries mixed in, but nothing significant is expected. Any light accumulation of snow is confined to far NE OK or into KS and MO. Travel is not expected to be severely impacted.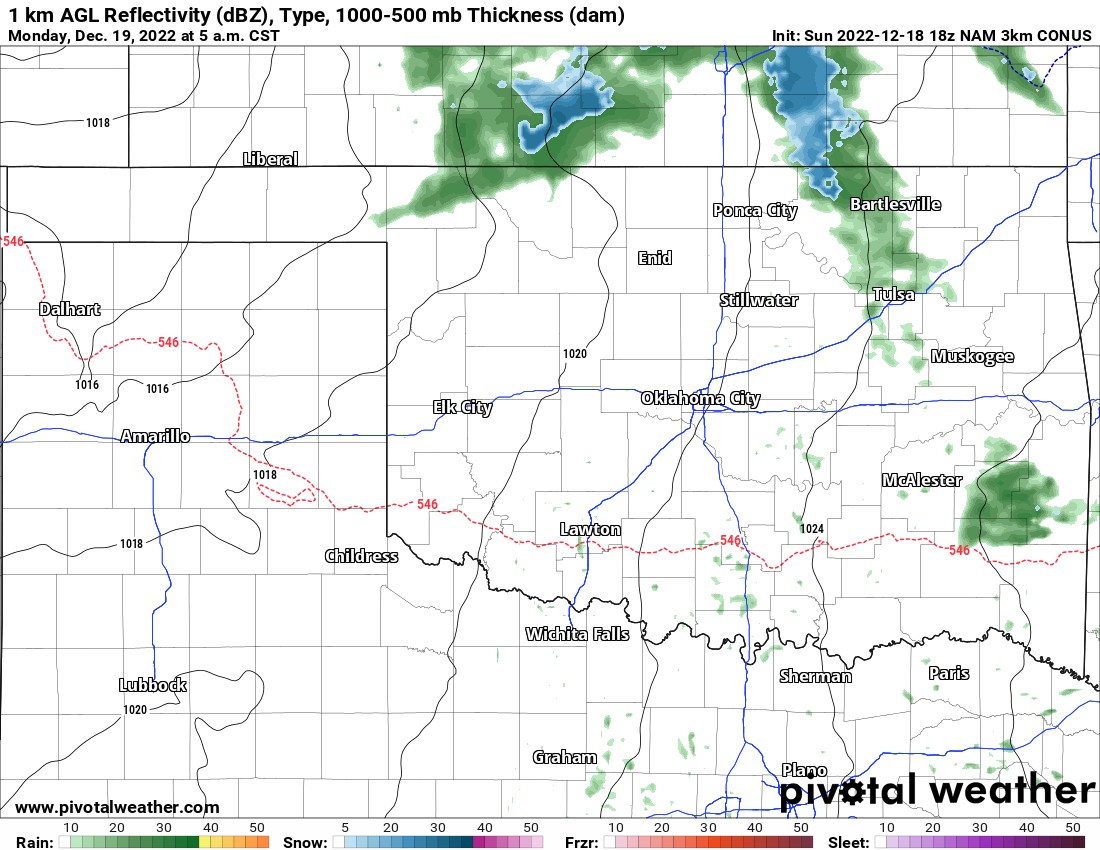 A cold front will fall in behind that system and keep things colder for Tuesday. A stronger front arrives Wednesday. Low level moisture will be trapped in this shallow arctic airmass late Wednesday, so expect some light freezing rain/drizzle to develop across the state. Be extremely careful with travel by evening, as bridges and overpasses could become hazardous.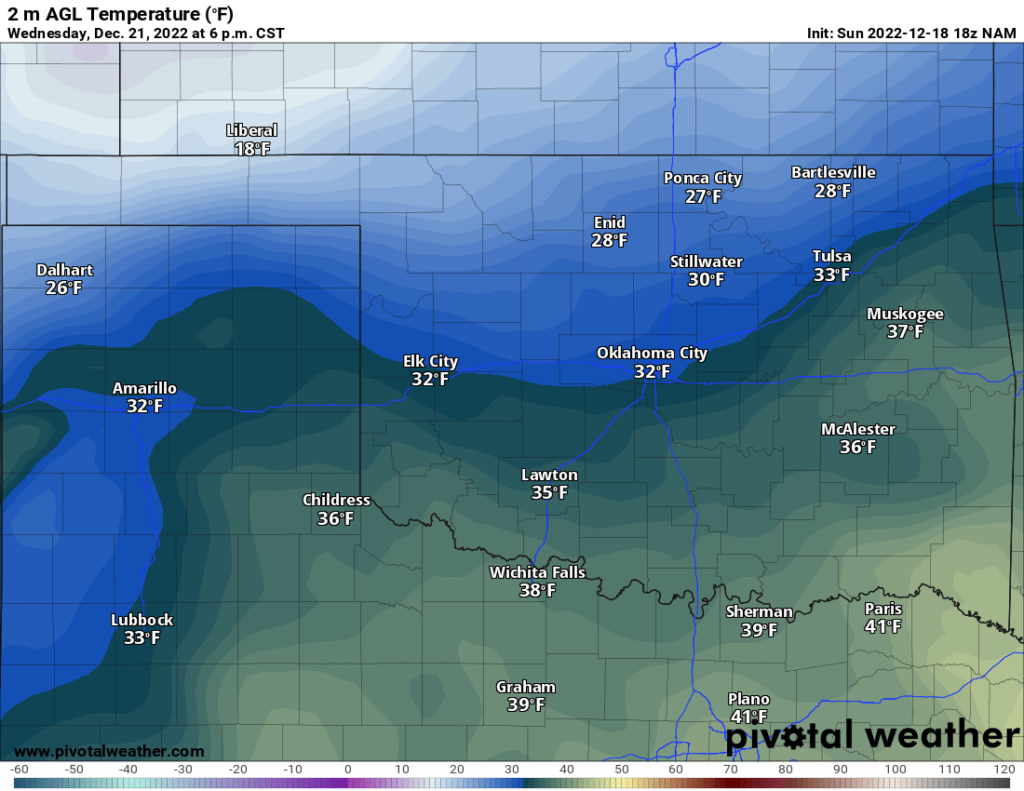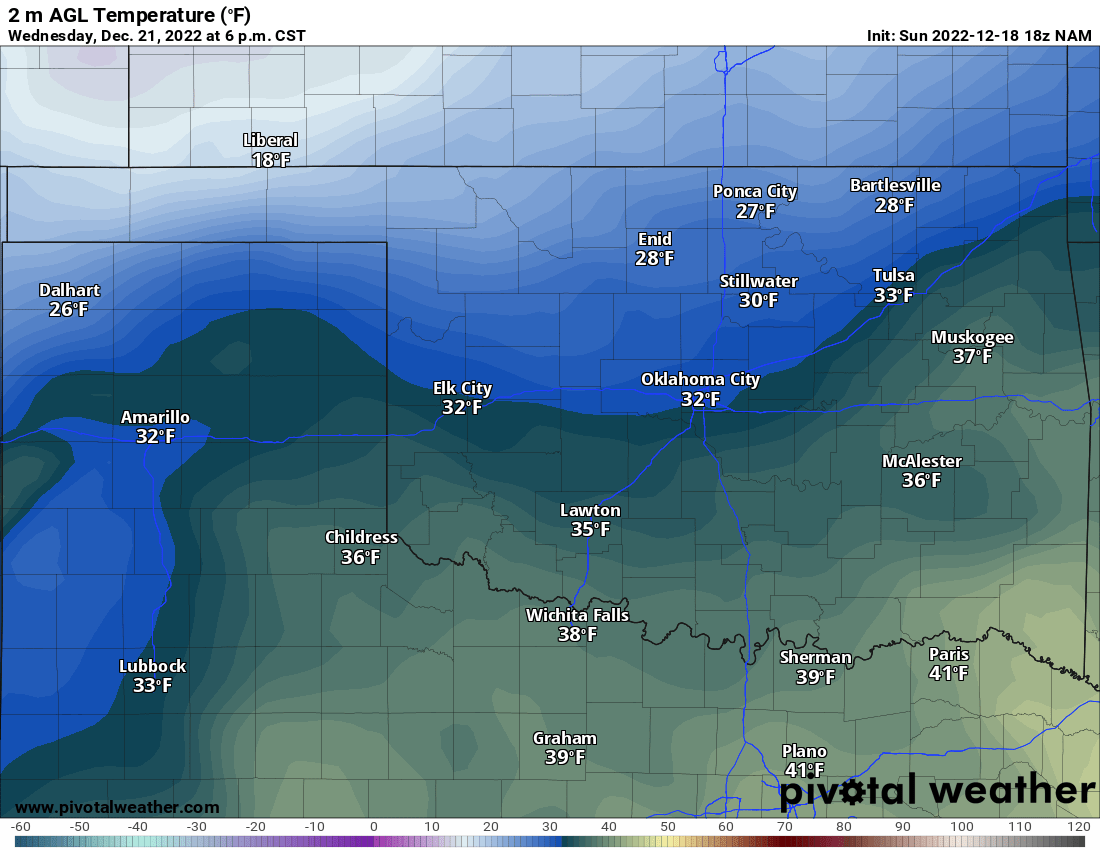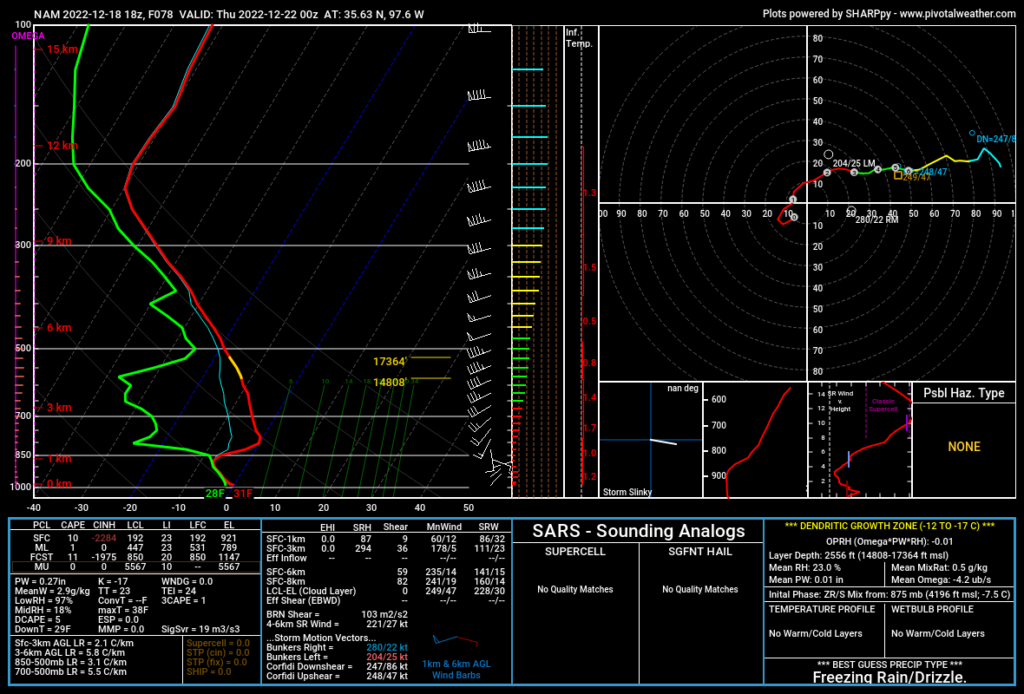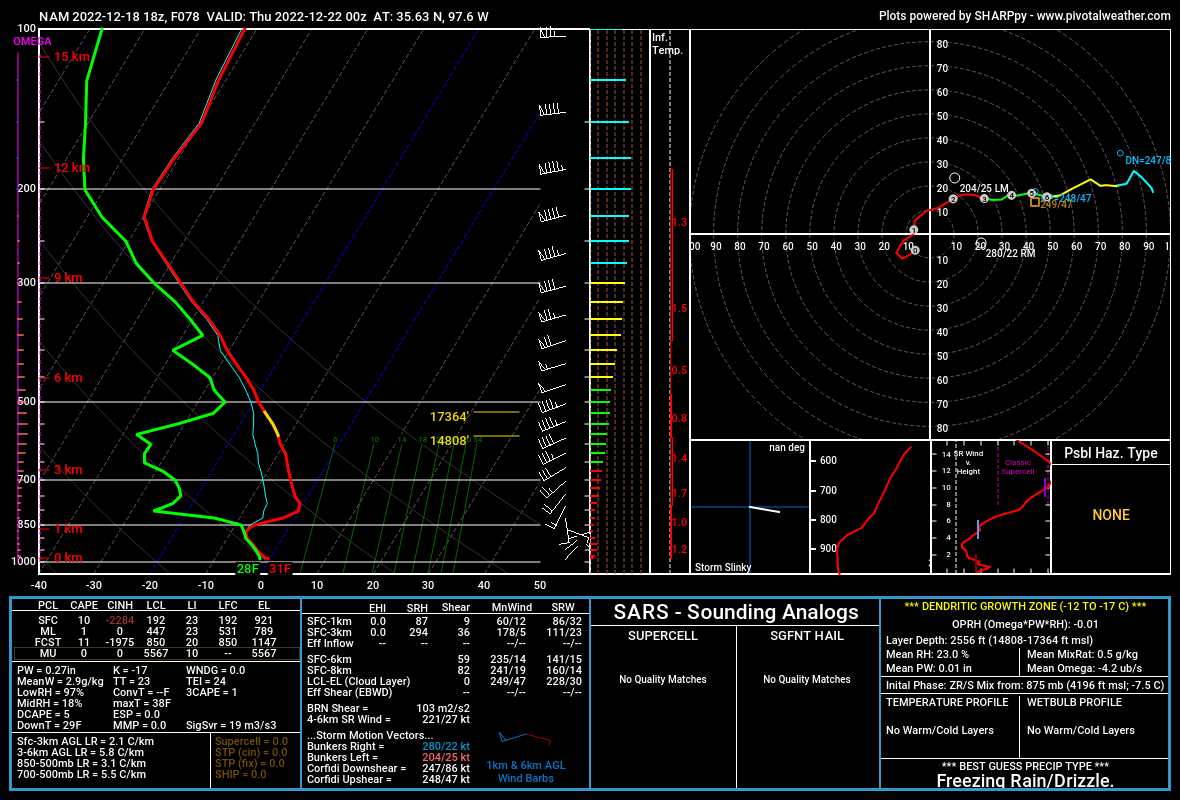 The secondary push of arctic air and the main shot with the coldest of the cold, will arrive Wednesday night moving across the state quickly on Thursday. Temperatures will fall instantly with the passage into the single digits and teens. Light to moderate precipitation will develop with a very light mixture of a rain/freezing rain/sleet mix to lightly coat surfaces before quickly changing over to snow. Liquid to snow ratios are about 25:1, meaning any significant moisture that we can squeeze out of the sky will be in the form of very light fluffy snow that blows around very easily. It's too early for accurate estimates, so watch over the coming days. Right now models indicate anywhere from a light dusting to a few inches.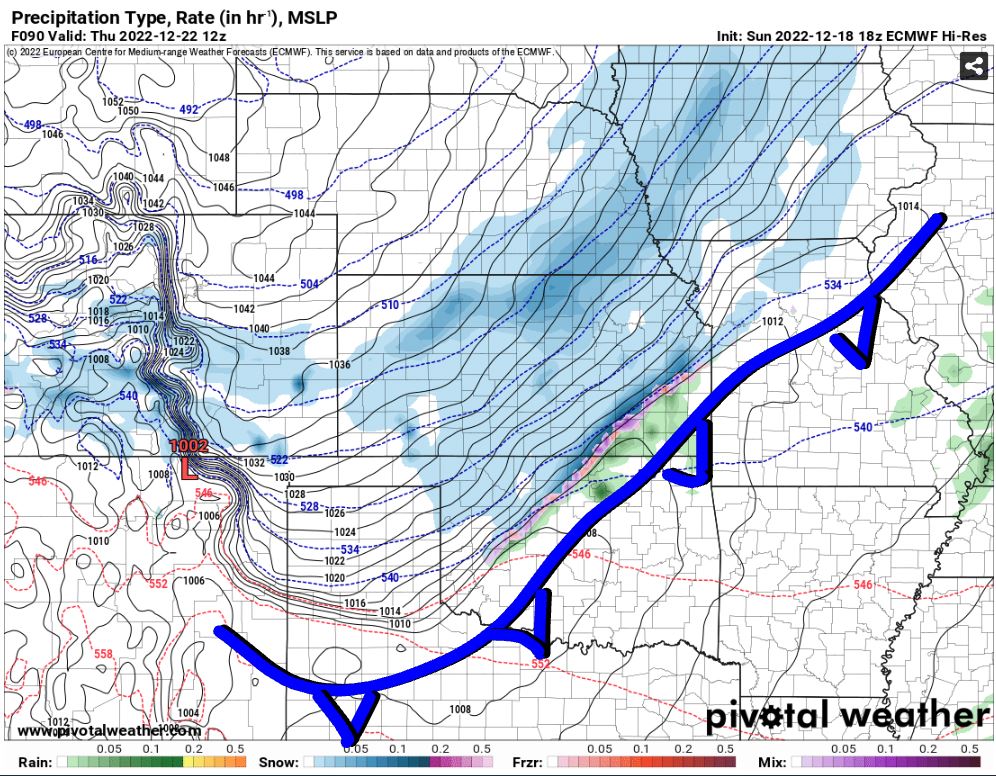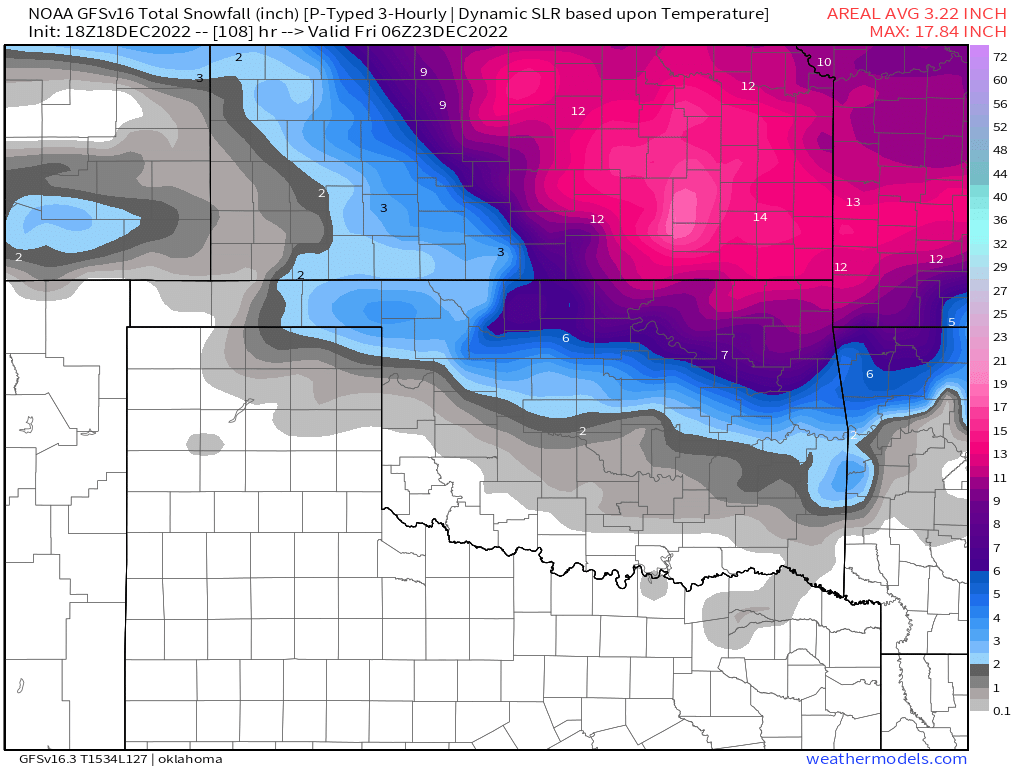 Other than any blowing snow, we'll be looking at winds gusting up to 60 mph in many areas. This could lead to whiteout conditions in areas seeing significant snowfall. With temperatures falling into the single digits, expect wind chill values to range from -15 to -30 degrees F Thursday into Friday morning. Yes those are negative wind chills. These temperatures are life-threatening. Exposure to this type of cold will lead to frost bite in minutes and hypothermia shortly thereafter if not adequately covered in protective clothing.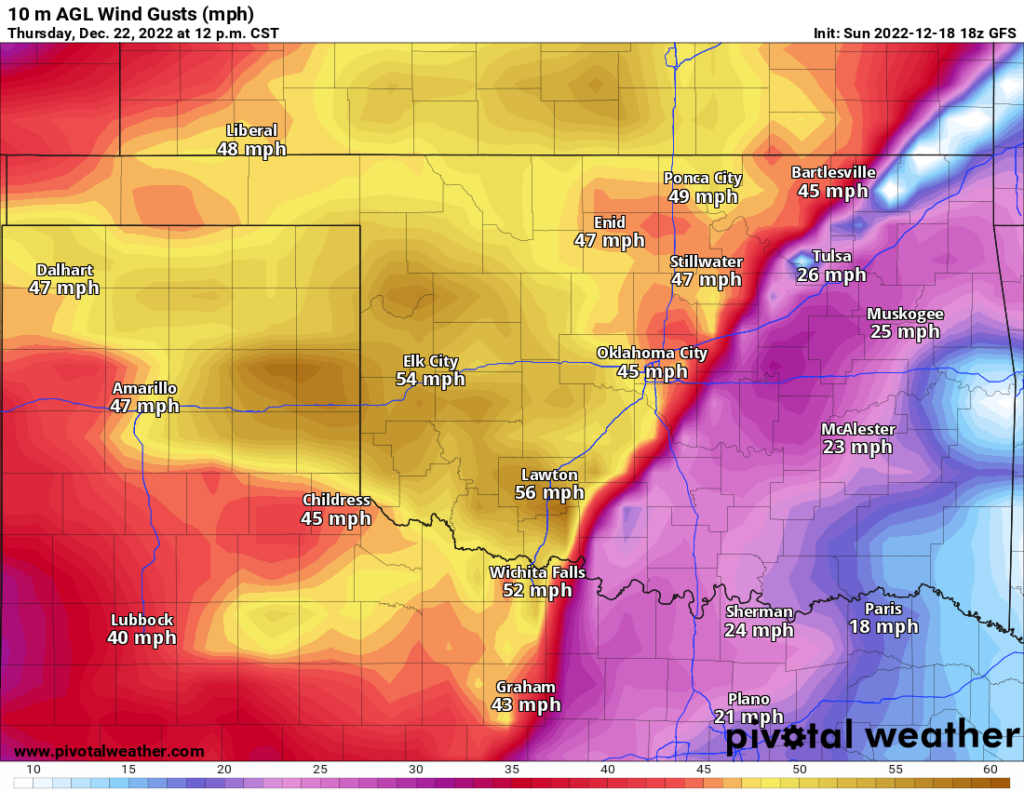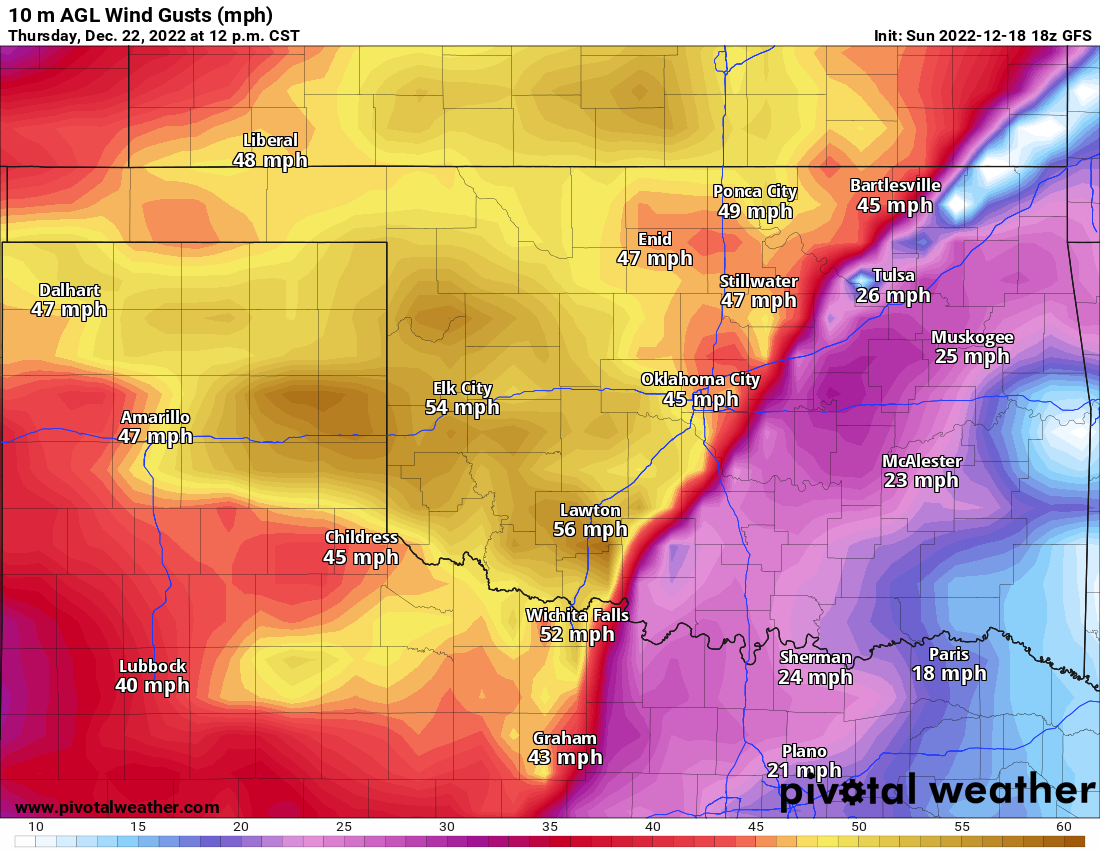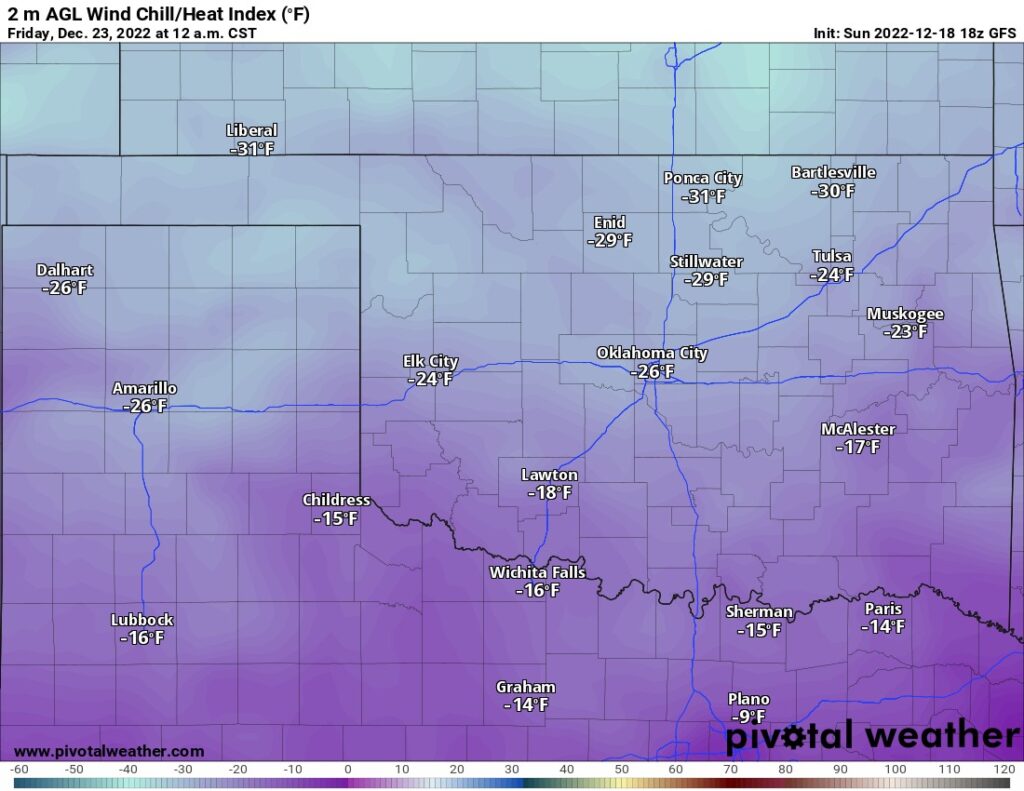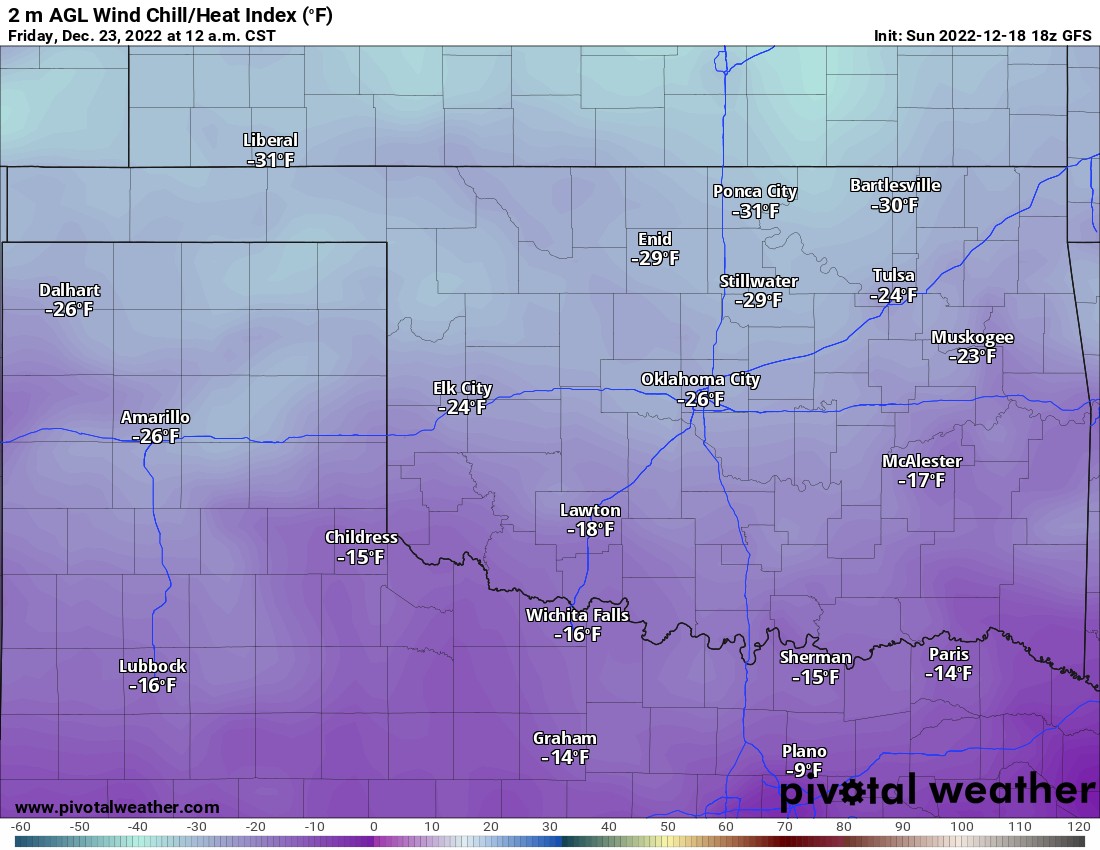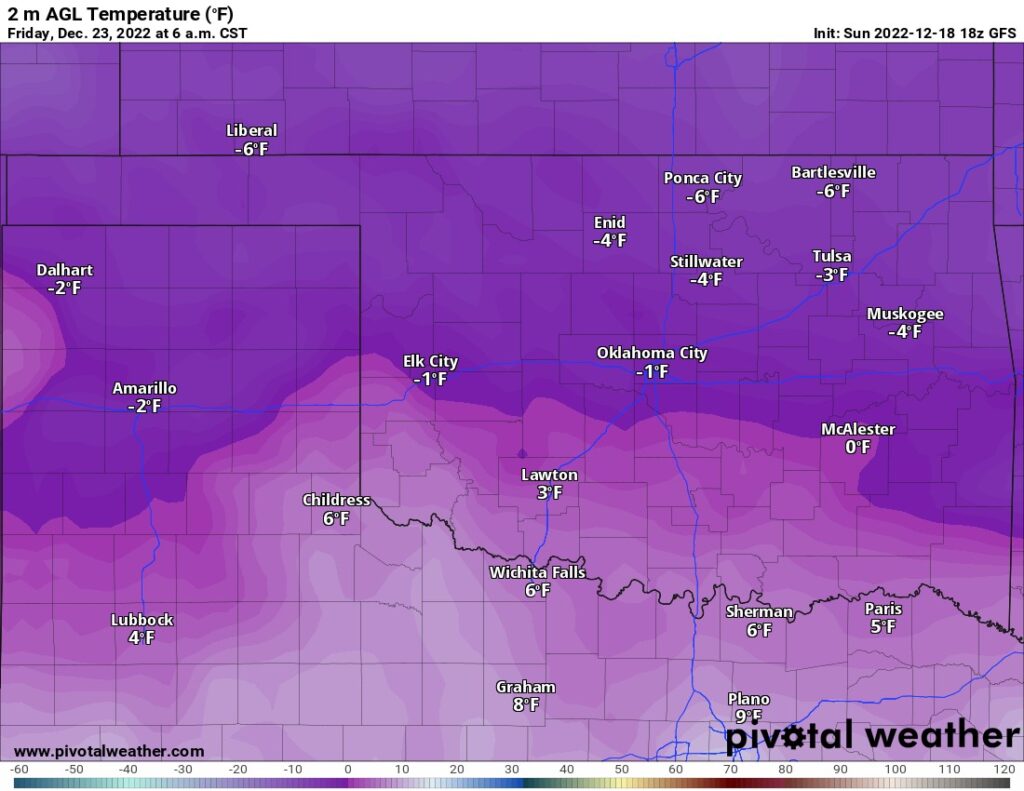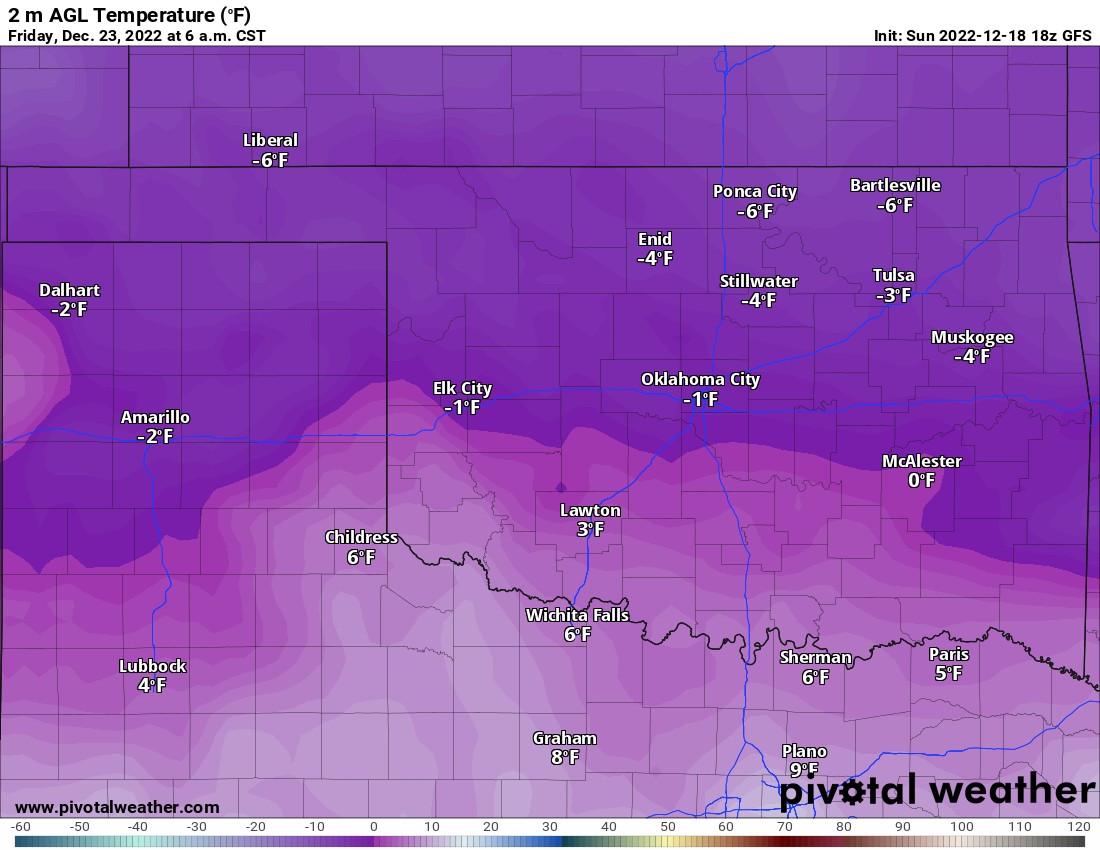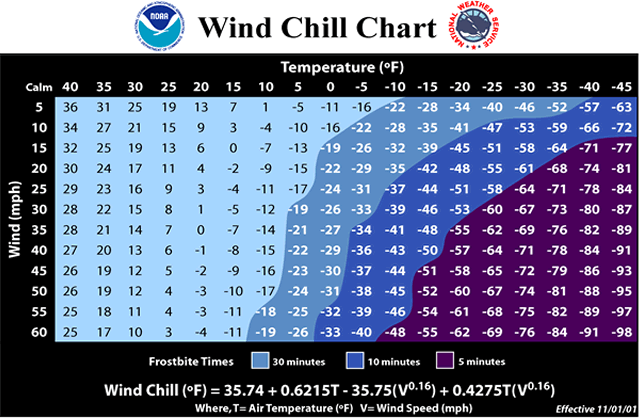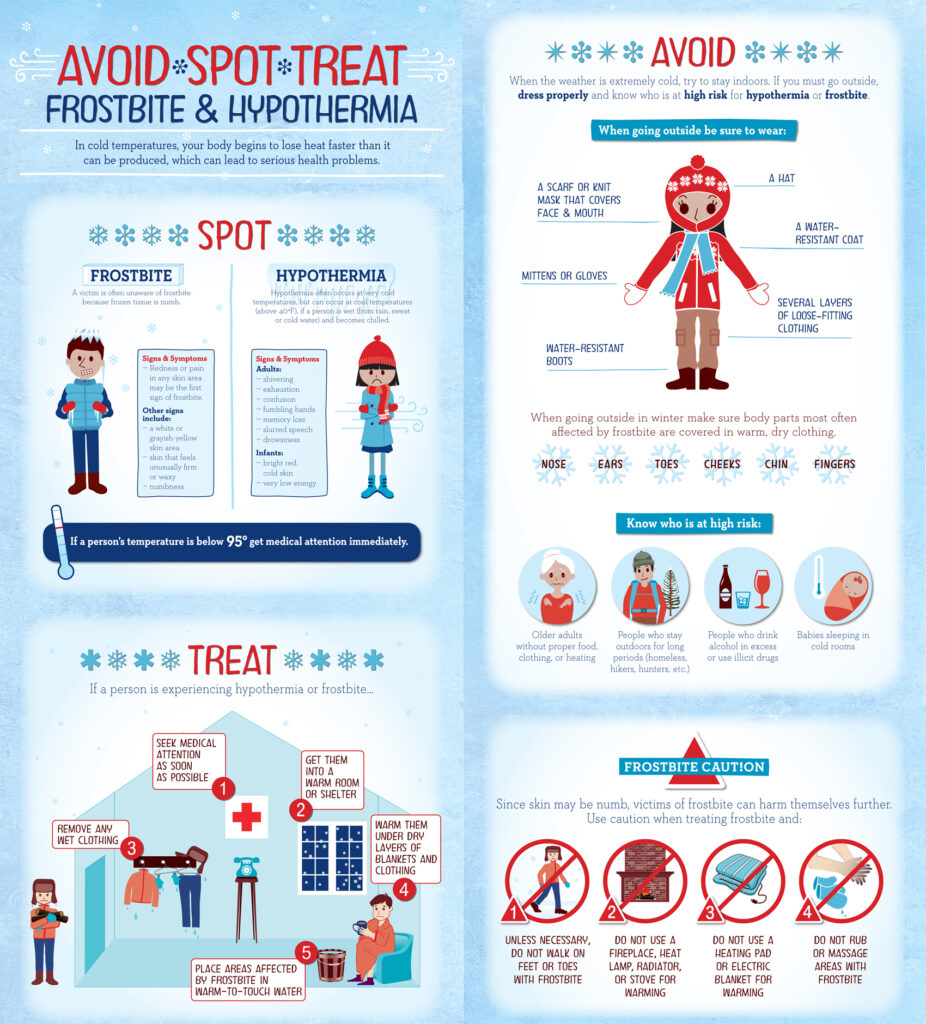 After the cold builds in, some upper energy will pass by the state through Christmas. Any of these weak disturbances can squeeze out a little snow. One possibly more significant disturbance may product a couple of inches of snow Saturday morning. Regardless, if a few flurries continue from Friday through Christmas Day, don't be surprised. Arctic airmasses like to squeeze out all available moisture and can cause crystallization near ground level, causing snow flakes to just appear.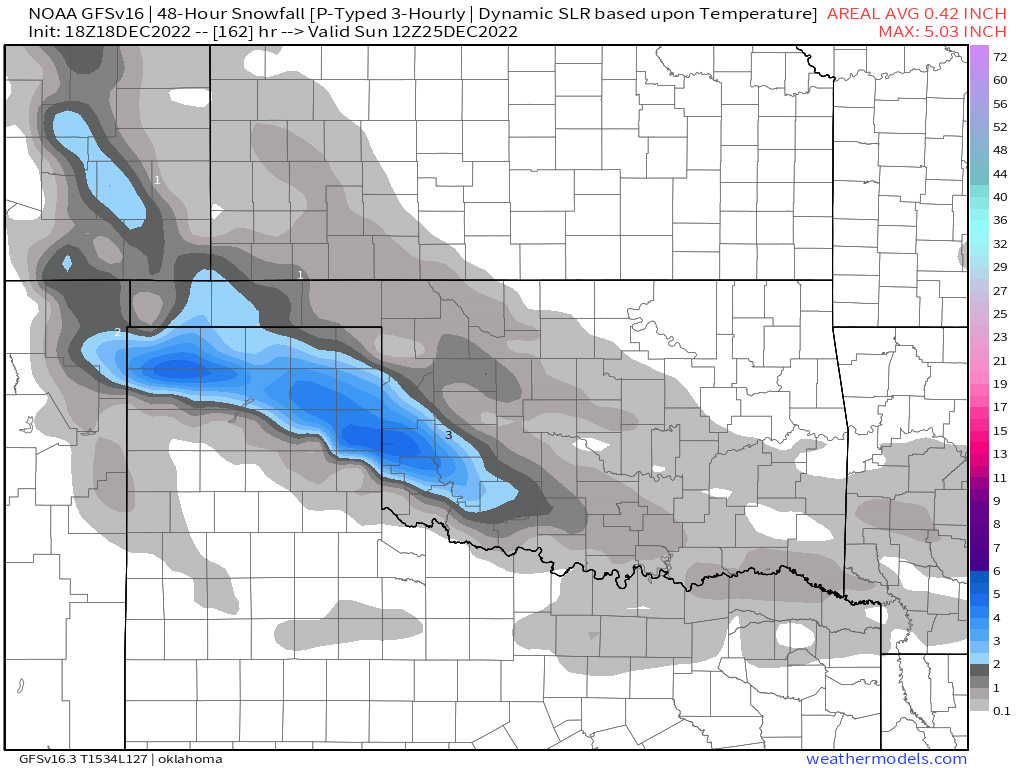 There really isn't a computer model that has a great handle on temperatures. I've shown the OKC trend below but with significant changes. Those numbers for Wednesday are misleading as we'll be in the lower 30s most of the daylight hours. When you wake up Thursday morning, the front will already be here with falling temperatures. Christmas Day won't be that warm either mostly likely (I've included a temperature map). After Christmas the numbers are all over the place, so don't be surprised if they change further.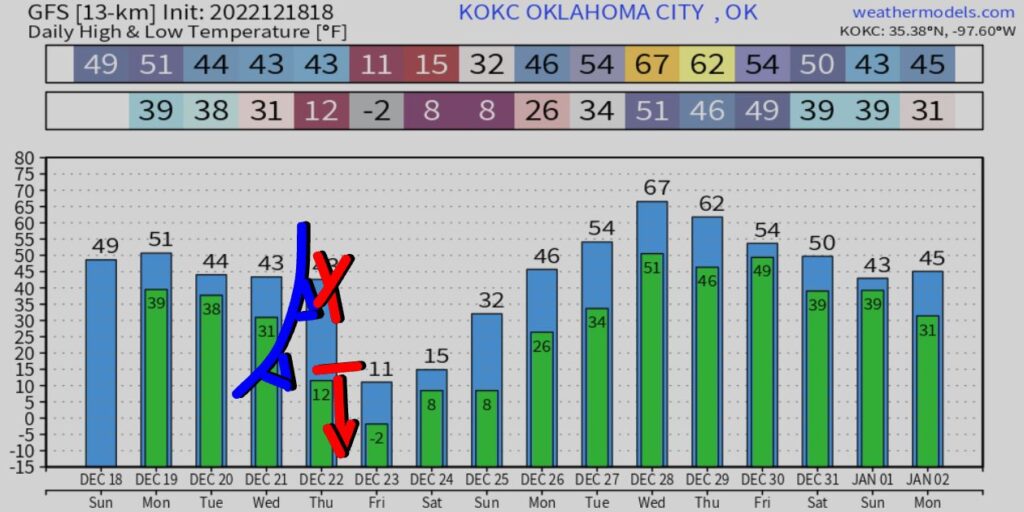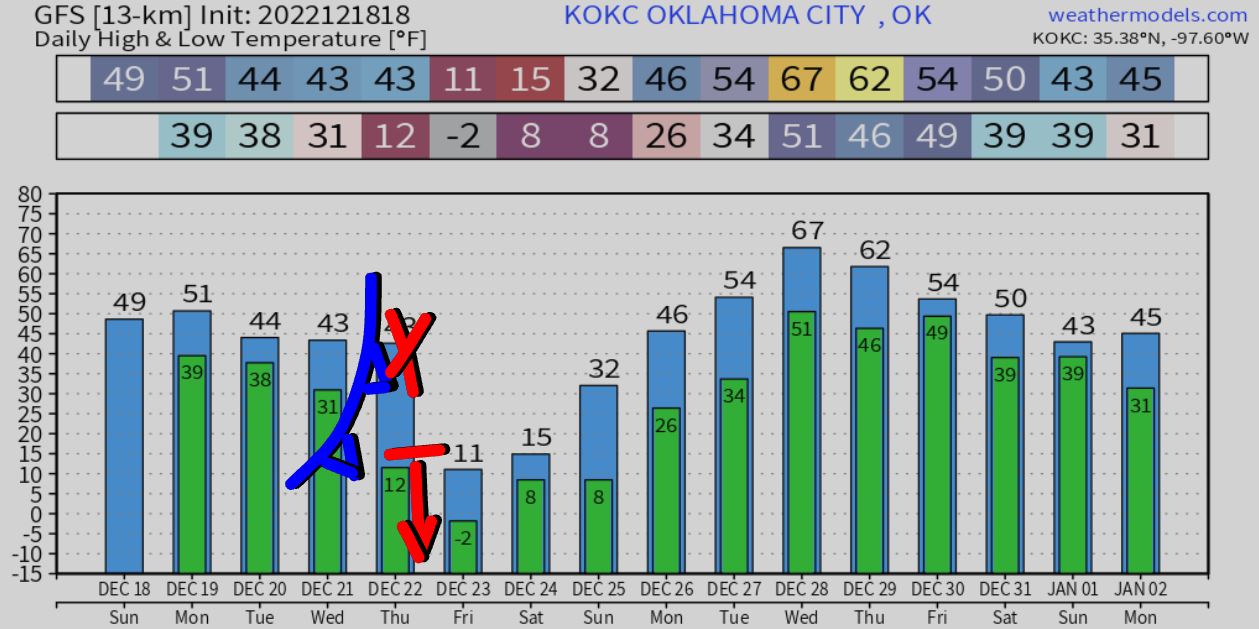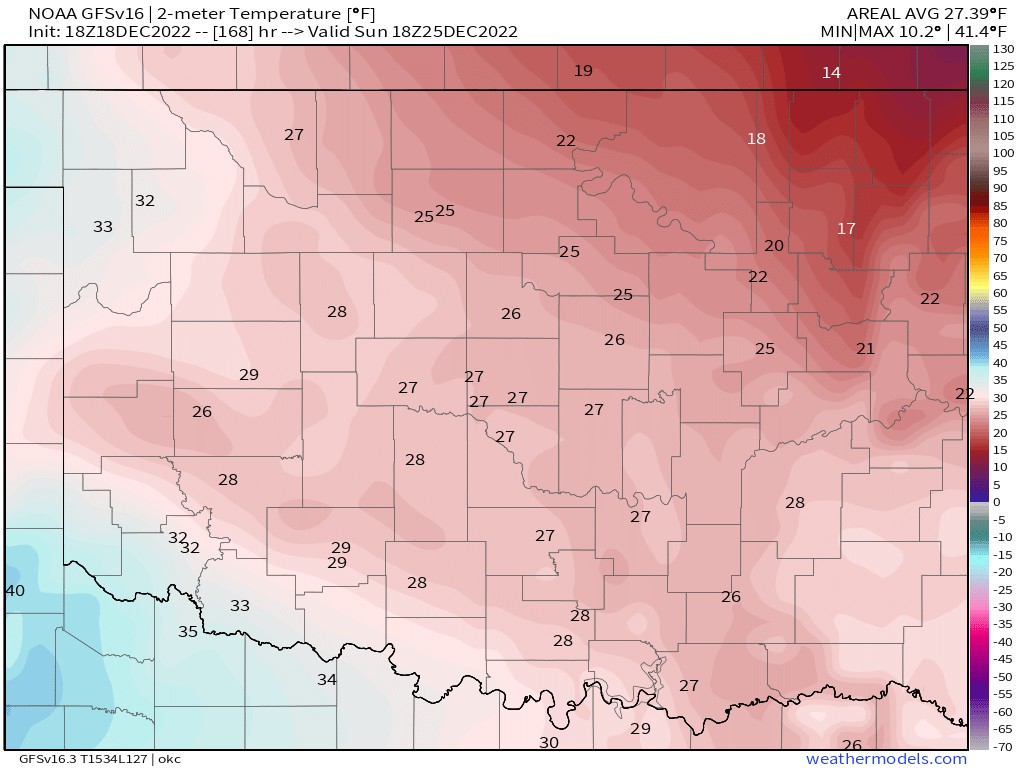 Here are some other helpful tips you can use during this winter weather event. I'll be around this week providing social media updates as well as live broadcasts, so stay tuned and be safe! -AT