The talk of this week will be about the weather on Tuesday. After that things get quiet and temperatures turn nice again. The next threat of rain will be with a few showers or storms on Sunday as another cold front works through.
Before we talk about Tuesday, take a look at the home that got hit by an EF-3 tornado in Covington, TN this past Friday. The couple that lived in this home survived by hiding in the bathtub. I looked for this bathtub and couldn't spot it. So somewhere in that rubble, they survived!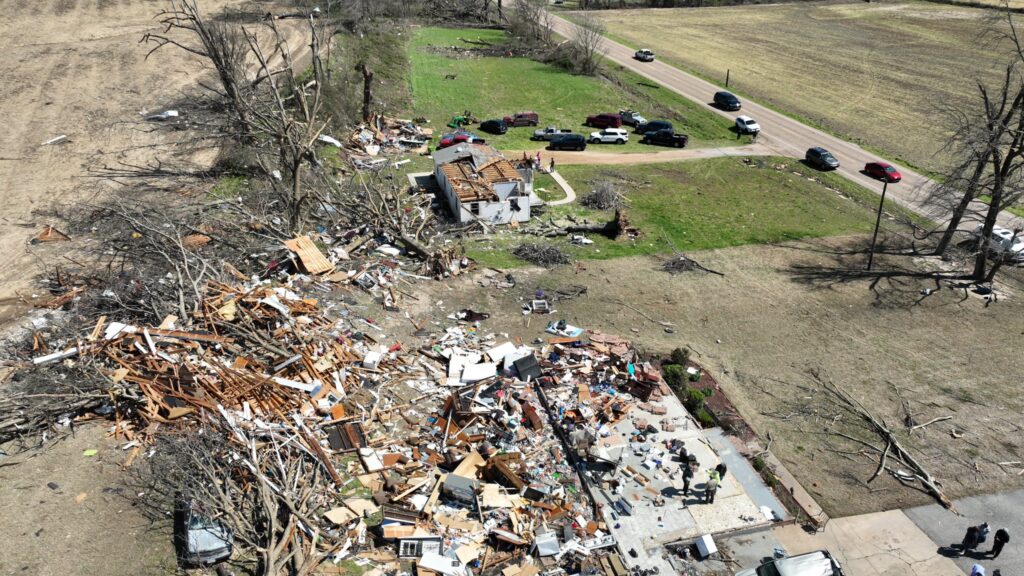 Keep the above in mind during tornado season. The advice is always the same, the lowest floor away from all outside walls and windows. Bathtubs and closets are typically chosen for additional protection.
Let's talk about the severe weather element on Tuesday and then we'll highlight the fire danger.
Machine Learning aka AI is coming a long way in predicting severe weather targets. It is highlighting another event for Tuesday across a large area. The computer is on the left, and the Storm Prediction Center (human) forecast is on the right. You may be asking the next logical question, which will be the better forecast? It Depends on who you ask. There is always room for improvement, but the graphic below the forecast for Tuesday is a verification composite from last Friday. In essence, both did a reasonably good job. So there is some skill shown to the machines and it will only get better with time. Also, notice how the machines shift our risk Tuesday further west. I'll show you why that may be a good call.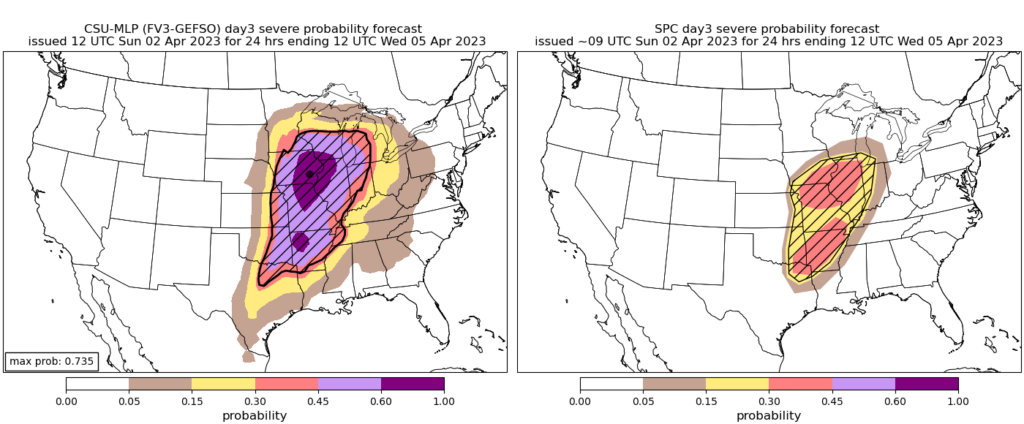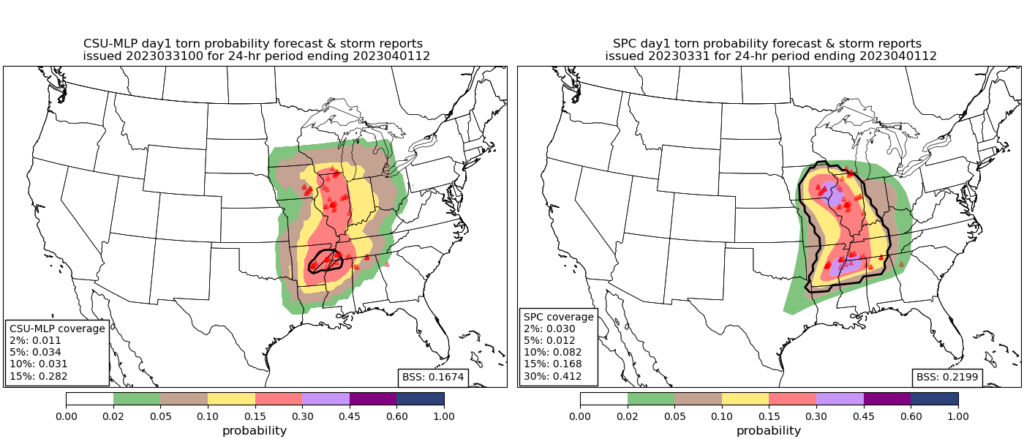 So why might the shift to the west be a better forecast? Well, dry air will be replaced by late evening across the I-35 corridor as a surge of moisture returns due to the position of the storm system Friday afternoon. Dewpoints will rise back into the 60s while strong convergence continues along the dryline. There is also significant low-level lift at 700mb shown in red as well as cold advection at 850mb. This will help to erode the CAP as shown in the CIN map below. Look at the area in C OK that turned white/grey. That is where the CAP has eroded to allow thunderstorms to form. If they manage to develop, all modes of severe storms are possible.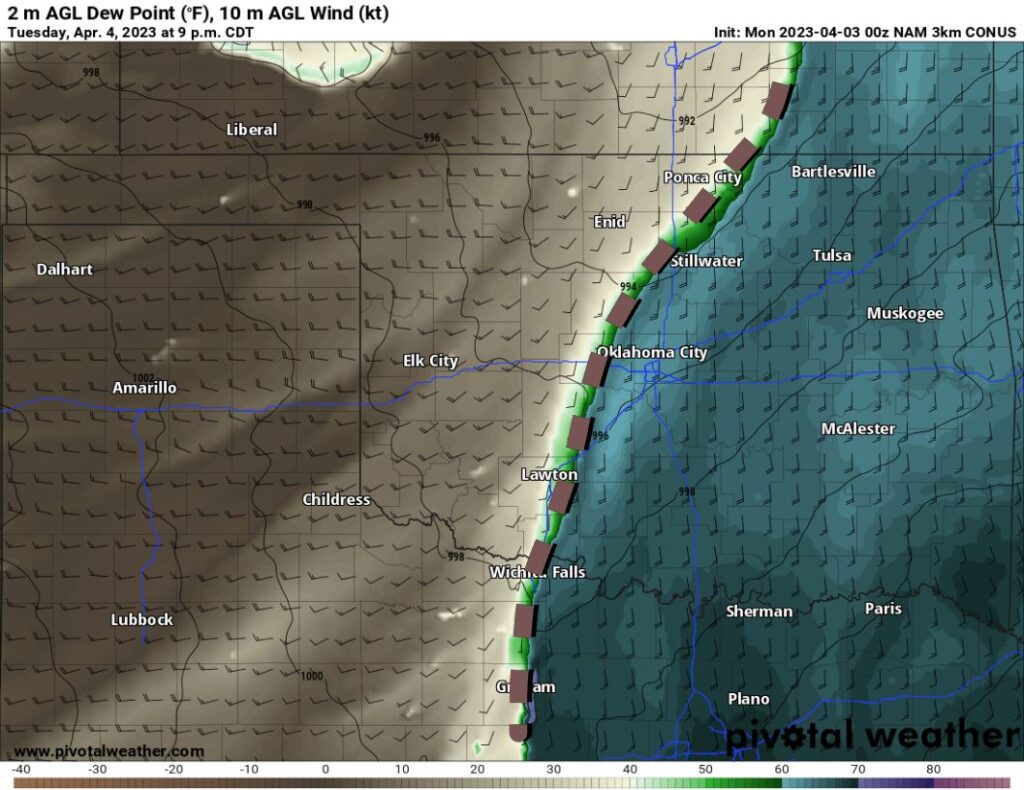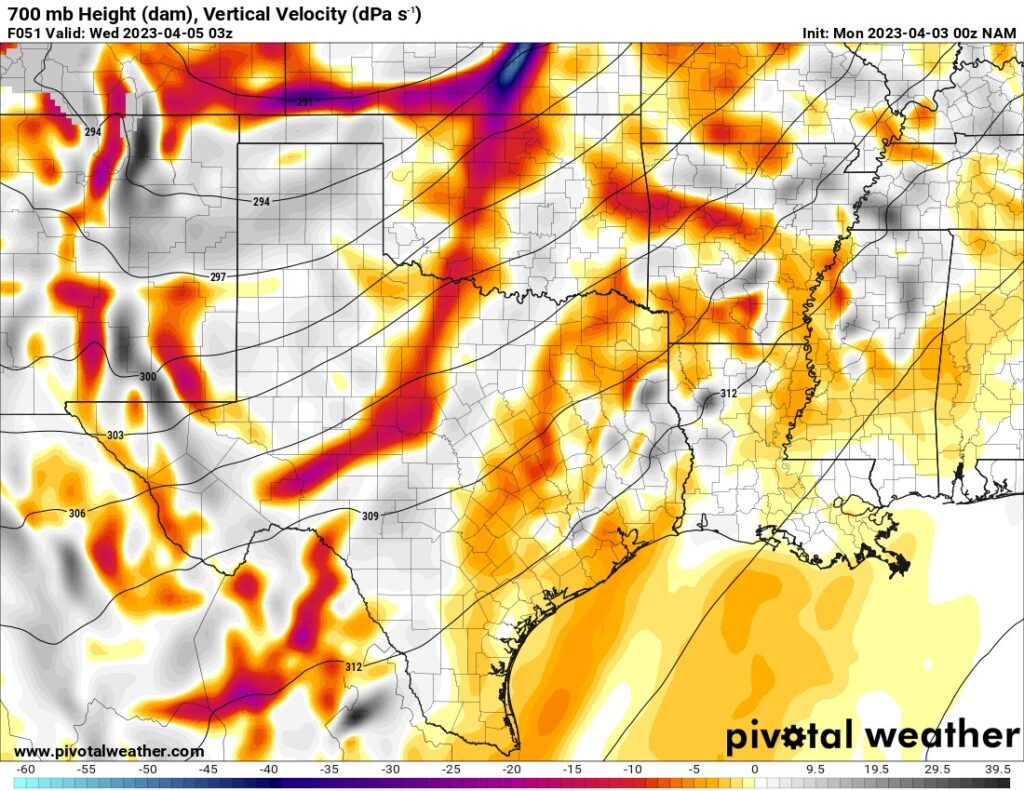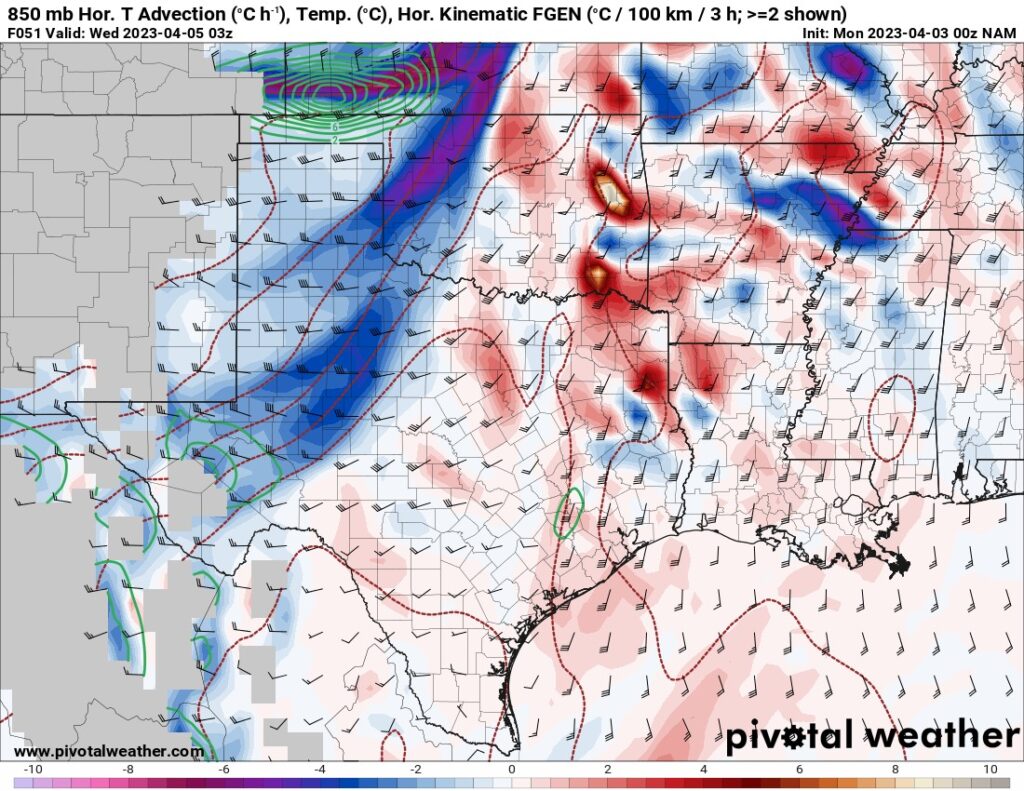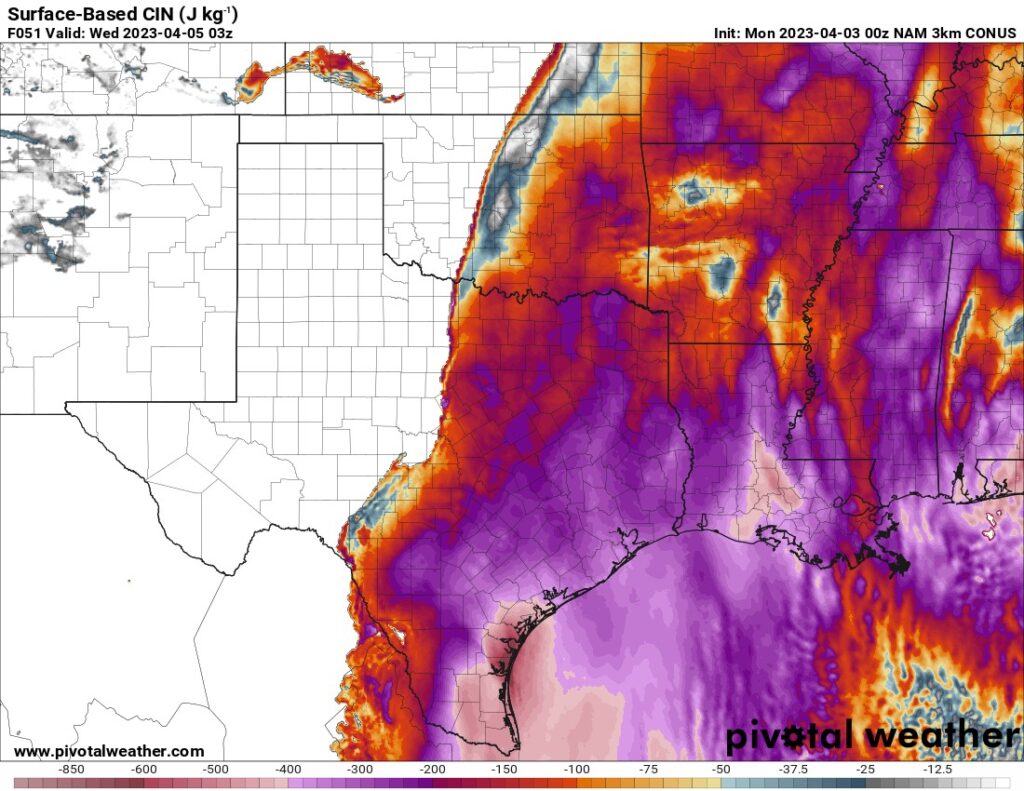 On a large storm system that is moving through Tuesday, we can outline the area that is most likely to see severe weather bounded inside of the blue box. This is where the best lift, shear, and moisture typically reside. Our area is on the southern fringe of this large sector. Looking at the significant tornado parameter, we do have an enhanced region just after dark through the late evening hours for any storms to take advantage of. We also have a northern and southern jetstream convergence overhead that would enhance development during the evening hours.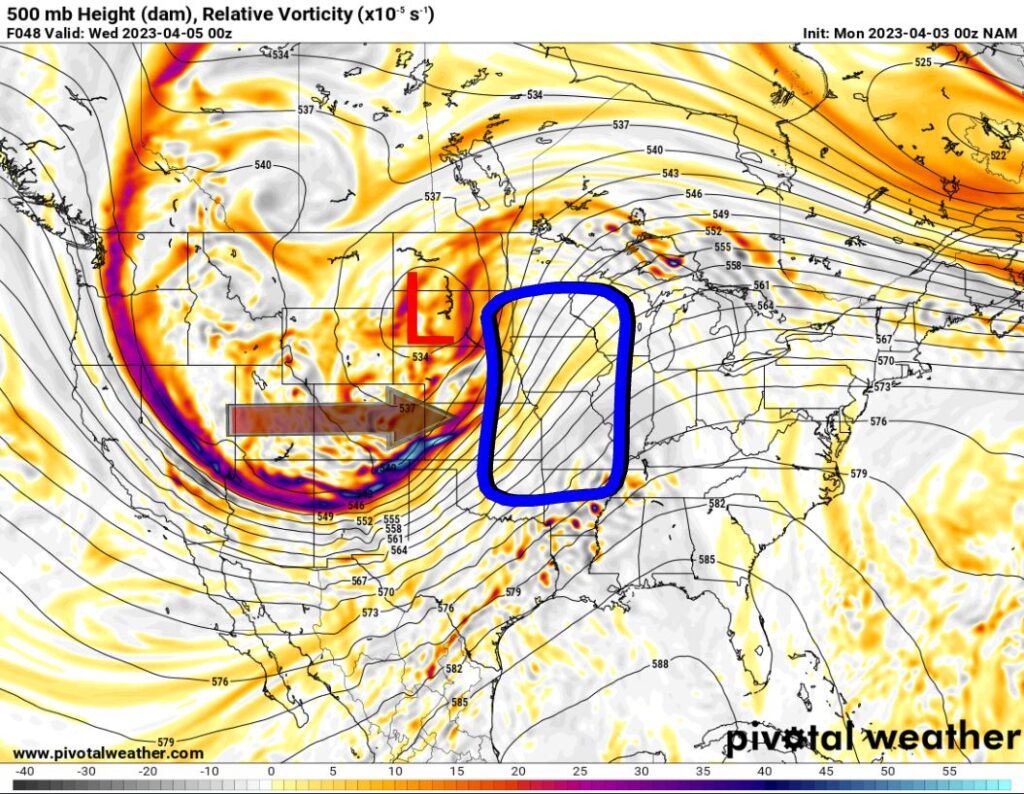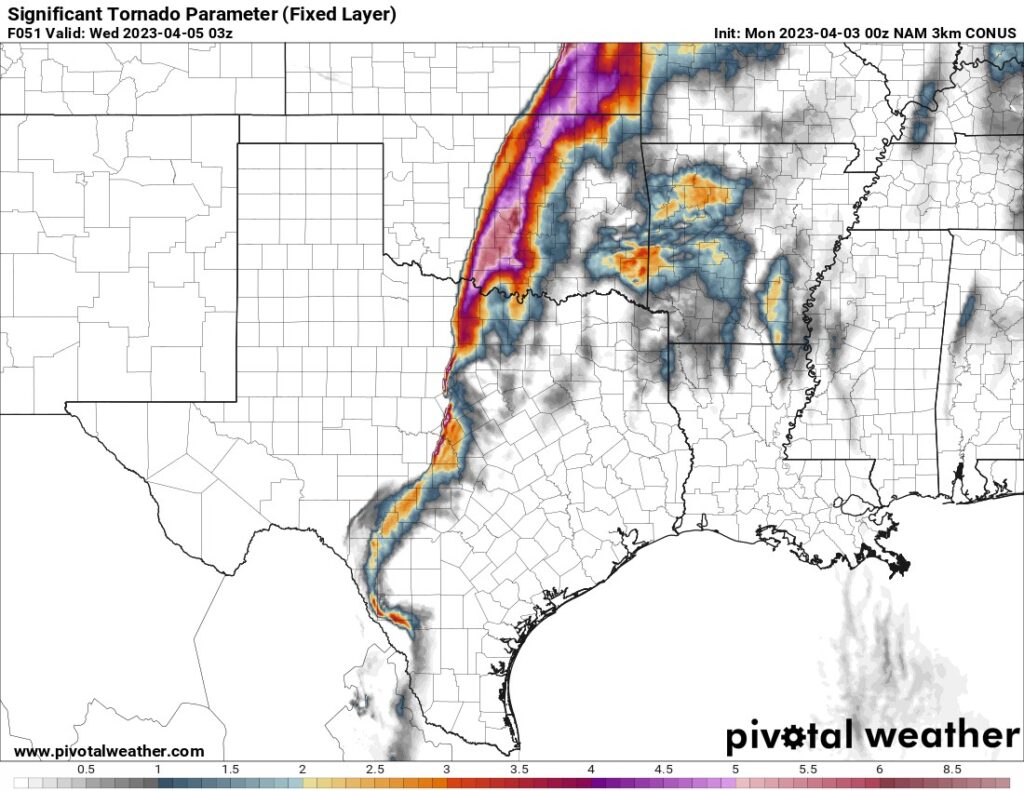 Despite the fact we have some favorable environmental factors for severe storms late Tuesday, it's not a guarantee. If the CAP is stronger than forecast, that would prevent OKC metro storms from forming. An example of what could occur is shown below with storms mid to late afternoon across SE OK, and then another round late evening.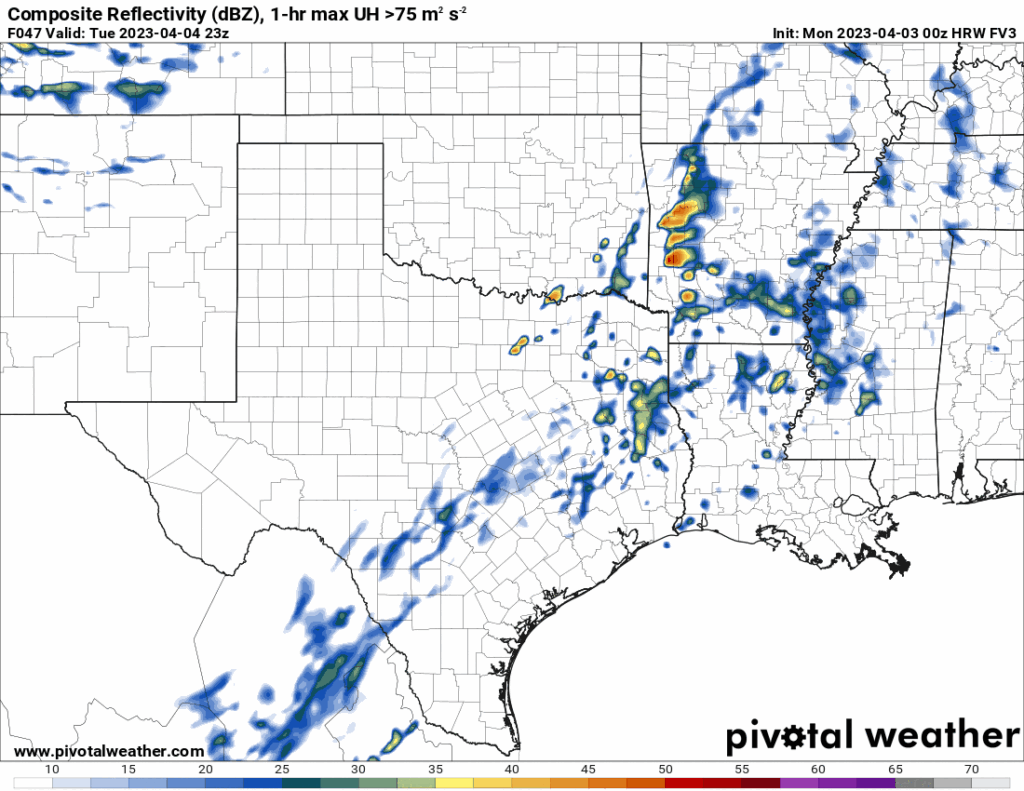 Regardless of whether storms form during the evening across C OK, one thing is for sure is that most of the day from along the I-35 corridor and west, there will exist a high fire danger as relative humidities drop below 12% across many areas. Temperatures will also soar into the 80s. Finally, winds will gust more than 40 to 50 mph again.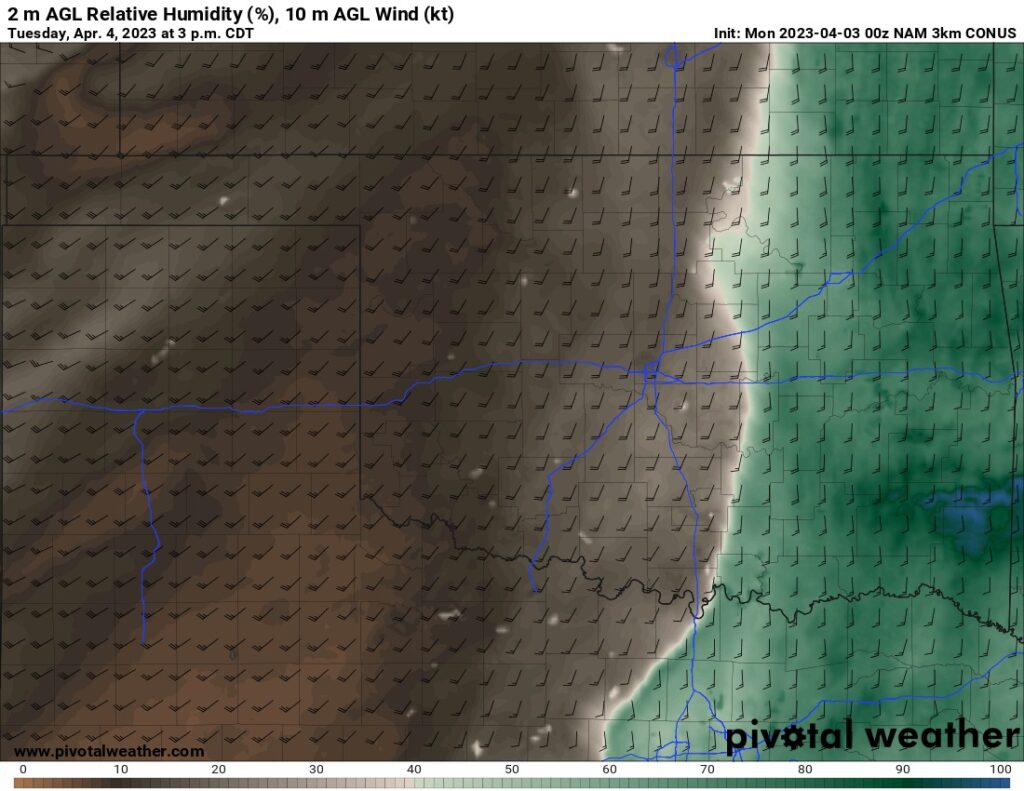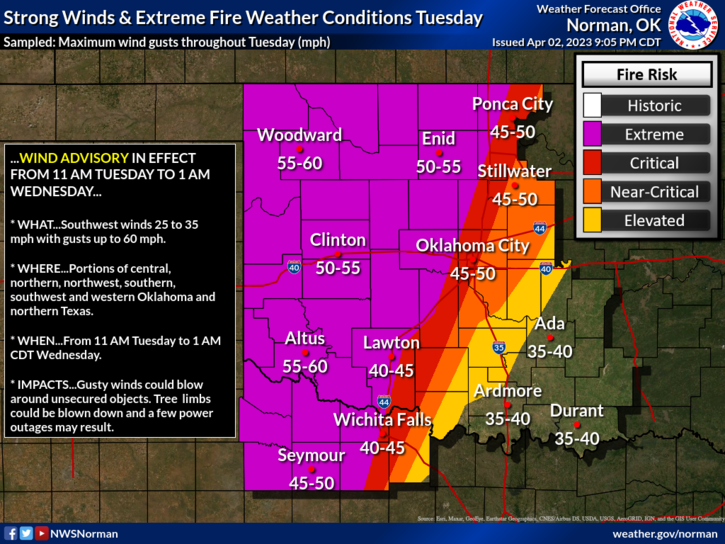 Temperatures will be quite warm Monday and Tuesday, but then back to more seasonable levels for the remainder of the week. Be careful with any sensitive vegetation as overnight lows will dip into the 40s and upper 30s for a couple of nights. I'll have more on the Tuesday storms with upcoming live broadcasts. So make sure you tune in to my social media channels and download my free weather app that predicts tornadoes ahead of time, ATsWeatherToGo.