This week will be mostly quiet. A few weak thunderstorms will graze NW OK Tuesday evening and there is a setup for severe storms on Wednesday across C OK. Otherwise, another strong cold front will move in just in time for the weekend.
The storms on Tuesday are conditional, meaning not guaranteed but if they were to happen would affect far NW OK and Kansas.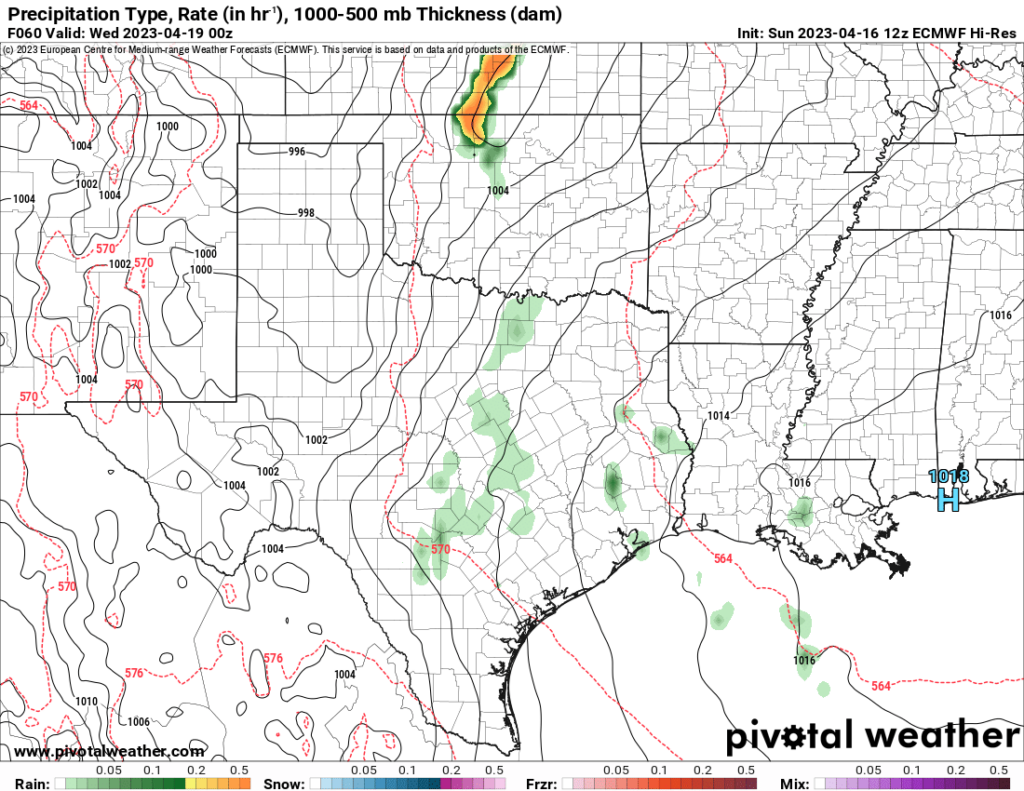 Wednesday, a dryline will set up across WC OK and allow the I-35 corridor to experience severe storms should the CAP not be a factor by late afternoon/evening. As of now, models have the CAP barely holding. However, any storm that forms will be capable of very large hail, damaging wind, and a tornado. The forecast sounding I chose on the SW side of the OKC metro indicates the damaging wind potential with the DCAPE over a 1000 and WNDG near 2.0. The SHIP indices is near a 3, so hail larger than 2″ in diameter. Winds aloft are weak so this would favor a slower-moving storm and updrafts that would struggle to hold their supercelluar characteristics for long periods of time. This allows disruptive storm processes to occur which can limit tornadogenesis and reduce the time tornadoes are present when/if they do form. The CAPE value is more than adequate for severe storms and the CINH (CAP) is close to 0, indicating it is possible to break the CAP with a surface temperature of 78 degrees. All of these things are very specific and look at one snapshot in time Wednesday afternoon at one point. A lot can change so we watch for trends over the next two days.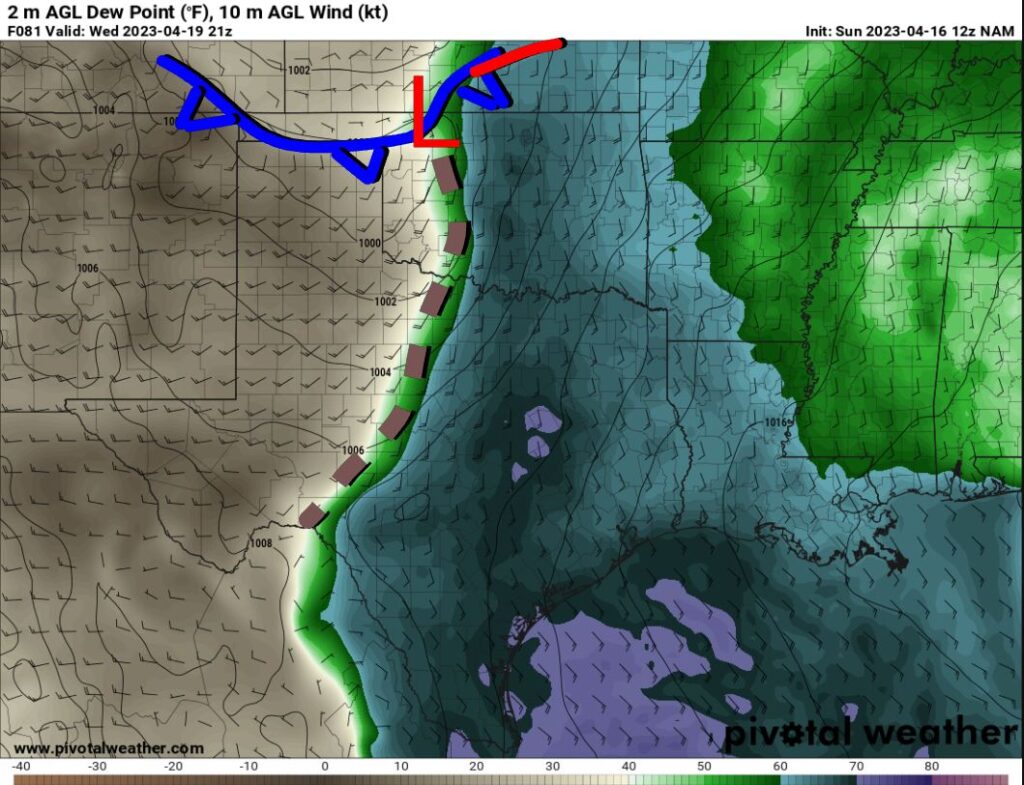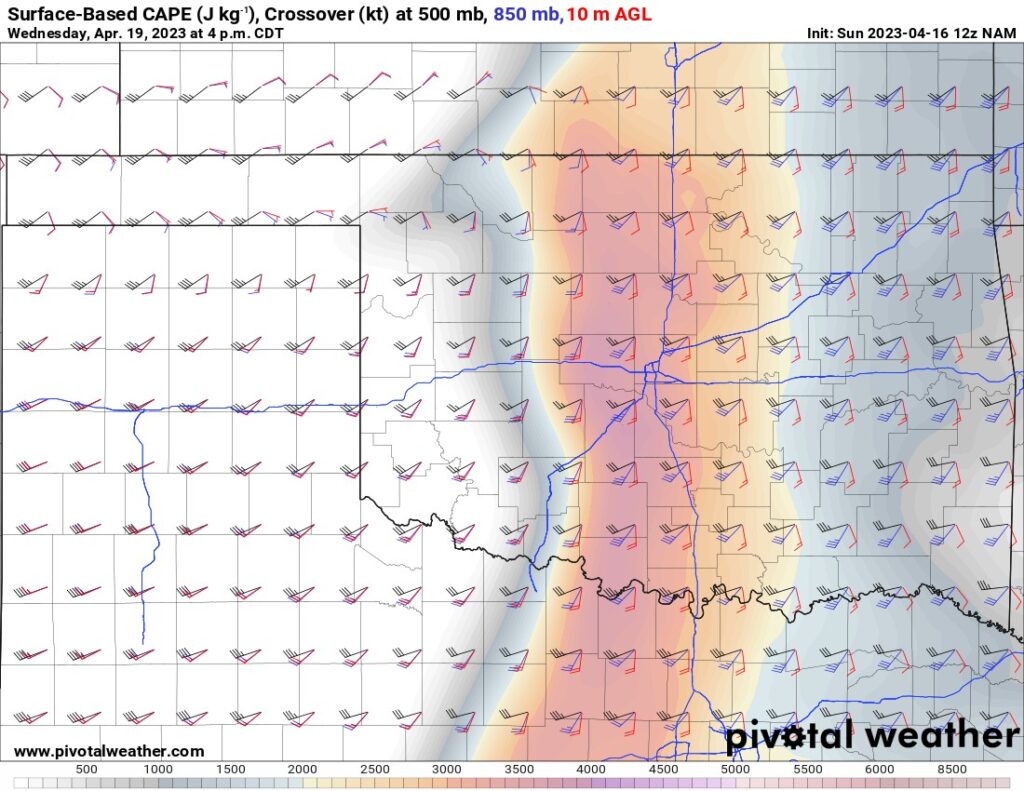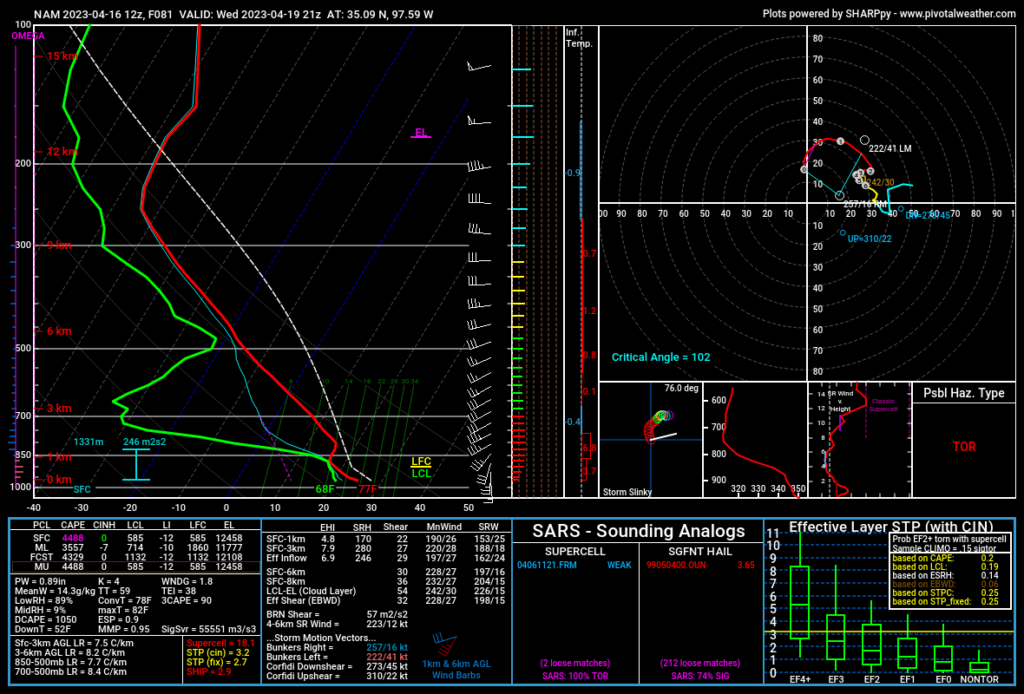 Sometimes it takes a weaker cold front to clear the state completely until late the next day, so there may end up being an opportunity for some severe storms Thursday afternoon across far SE/E OK into AR.
Our next big cold front arrives Friday. This will set the stage for a cooler weekend ahead and a little bit of rain on Saturday. As of now, most models do not indicate a freeze with the exception of the Canadian which favors NE OK for the 20s Sunday morning. However, April is a month that can wreak havoc on freshly planted flowers. So pay attention to the weather and have a way to protect them if needed.