"When I was living in S. OKC/Moore a few years ago, your app gave me a twisting storm notice 10 minutes before a Tornado Warning, which was 1-2 minutes before the local new station did. You literally saved my life (and my niece and sons!) I'm a forever fan. You make me feel safe and like I can relax. That's huge, after growing up in Moore/S OKC!" –Kristin Dickson
If you enjoy the app and my services, please consider a small contribution to help offset costs. Available options here: Donate and Support Options
"When seconds count, give yourself minutes!" – Meteorologist Aaron Tuttle, ATsWeatherToGo, the Oklahoma original
**IMPORTANT for ALL Users**: This app requires "always allow" even while closed permissions enabled on your device. It uses your exact location to send you custom tornado alerts tailored to your specific GPS coordinates. If you select any other option, the app will not work as designed, and you will not receive these life-saving alerts. This does not affect your privacy or any other data, strictly needed to warn you of storms approaching. You may have to go into your phone settings and locate the app, to assign the appropriate permissions. -AT
6 Reasons why you should try the 'ATsWeatherToGo' mobile weather app:
It's FREE!
Shows premium weather data (including lightning) that other apps charge for.
Predicts tornadoes before they develop, giving you up to an extra 15 minutes to find shelter.
Allows you to enter 16 custom locations for alerts: home, schools, work, grandparents, etc.
Covers all seasons and works all across the country with limited international data.
Built by a Meteorologist with your safety in mind.
Download ATsWeatherToGo Here:
Access the menu by touching the 3 dash symbol in the upper left next to the logo or simply swipe the screen to the right. Add locations with the 3 dots upper right (Android) or balloon (iOS).
App Features:
• Current weather conditions transitioning to a 24 hour forecast
• 7 day forecast and long-range outlooks
• Life-saving watches & warnings
• Advanced radar with weather type depiction
• Hi-Resolution OK NEXRAD sites
• Hurricane and severe storm tracking with time of arrival
• Lightning in the area alerts with graphical display
• Storm Prediction Center Outlooks
• Personalized push notifications to your specific location
• Blog style weather related discussions, graphics and video
• Live anxiety lowering severe weather coverage
• Social Media integration and photo upload
• Upload damage photos directly to your emergency management (OK only)
More about the app:
I was the first to bring this app to Oklahoma in the Spring of 2014. One of the unique things that this app does, is give you advanced warning before the National Weather Service issues an alert. Receive a notification about a storm developing a tornado, or storms entering the area up to 25 miles away, or lightning detected nearby. All of these things give you more time to prepare.
Quick YouTube tutorial video:
Note: Please make sure your mobile device is updated to the latest version of software. If data doesn't populate immediately turn off WiFi and make sure location services are enabled for the app. Once populated you can enable WiFi again. If your nearest airport reporting station is down, dashes may appear in the Currents, just enter a nearby zipcode or city until the airport equipment is repaired.
More about how the safety functions of the app works:
Dangerous storm notifications
An example notification message will look like this: SAF-T-Net Weather Alert: Dangerous storm approaching your (location), followed by the storm's BTI rating. When you receive a "dangerous storm" message from ATsWeatherToGo SAF-T-Net, it means that a storm capable of the following characteristics will be arriving at your registered location(s) within 15 minutes:
Hail
High, damaging winds
Flooding rains
Twisting storm notifications
A notification for this type of message will look like this: SAF-T-Net Weather Alert: Twisting storm approaching your (location), followed by the storm's BTI rating. When you receive a SAF-T-Net message indicating a dangerous twisting storm is approaching your location(s), it means that a storm containing wind shear, a prime indicator of tornadoes, will be arriving at your registered location(s) within 15 minutes.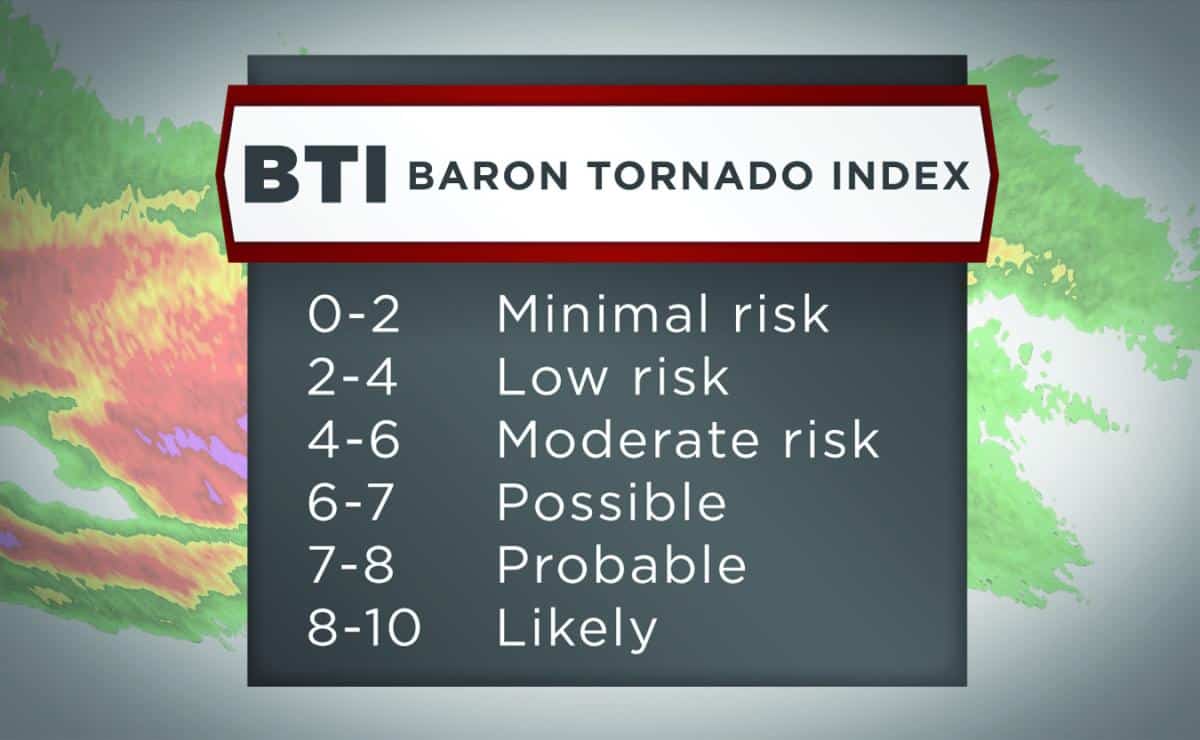 The Baron Tornado Index®BTI provides a simplified 0-10 ranking on the likelihood of a tornado within the storm. It uses patented and proprietary algorithms integrating live radar data with the highest-resolution mesoscale models available. The Baron Tornado Index has proven to be highly effective at detecting storms likely to spawn tornadoes with lead times of up to 15-30 minutes, thus giving you more time to prepare.
So the BTI summed up: If the value is a 9 or 10 it's most definitely a tornado and a rather large one. So if you see that number get to a shelter immediately. Even a 7 or 8 deserves your full undivided attention and the storm will likely produce a tornado, especially if it's all alone (isolated from others). The rest depends on the trend. If the number starts low, say a 2 for example, but jumps quickly to a 5 or 7, watch out! Keep an eye on that storm as a tornado is trying to develop quickly. A storm with very low numbers can be disregarded, but only in extremely unstable environments, meaning it's all relative. If you have 6 storms and all have a BTI of 1 or 2, but a couple of them have a 3, 4, or 5 and you are in an atmosphere primed for tornadoes, pay attention to the slightly higher-numbered storms. The BTI will do best on explosive days with large tornadoes due to the Doppler radar data and model indices it examines. The small/weak tornadoes won't give off a high number and some may be difficult to detect due to Doppler radar limitations. In either event, take any warning from the National Weather Service and any advanced warning from the SAF-T-Net feature seriously. They both deserve your full attention.
If you are experiencing problems with the app or want to leave feedback or suggestions, be sure to let me know: Contact Form
If you enjoy the app please let others know by leaving an honest, positive review on the app stores. Again you can download my app directly from the Play Stores here: