"What's for dinner?" The question is now solved thanks to Fuss Free Meals! Kristi Jewell of Oklahoma City started her small business to make meal time much easier and less stressful. She makes pre-packaged freezer meal kits for your slow & pressure cooker, oven or stove. You add the meat and freeze! Online ordering takes place each month from 3 menus including a Regular ($6), KETO ($6), and Gluten/Dairy/Soy Free ($9) menu. Each meal kit easily provides between 4-6 servings. Orders can be picked up or delivered from a variety of locations throughout Oklahoma. Read more about HOW IT WORKS here.

See what customers are saying about Fuss Free Meals:
"2nd time and will order every month! Thank you for making meals so much easier, tastier and healthier then fast food. I live on the go. I honestly love to cook just don't have time."
"The convenience of just having to add meat and freeze. I don't have to research recipes I want, I avoid doing the shopping and putting it all together. I've done the math and realistically I can't do it much cheaper."
"Every meal has been excellent!! I love the convenience and variety of it. This makes dinner time so much less stressful and has gotten both of my younger, picky boys to eat more nutritious meals! Kristi and her husband are very friendly and accommodating. I do and will continue to recommend them to all of my friends and family!"
"I love FFM for the convenience, quality & to get out of the cooking rut I'm in!  Love that you offer the GF menu too!"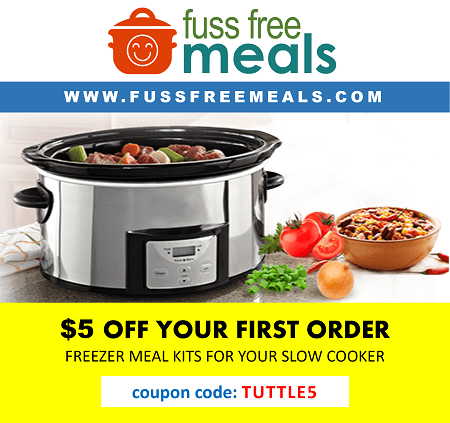 Fuss Free Meals is offering all AT's followers $5 off their first order with the coupon code above. Visit their website FussFreeMeals.com today!