Christmas Storm Update and Pipe Bursting Temps Coming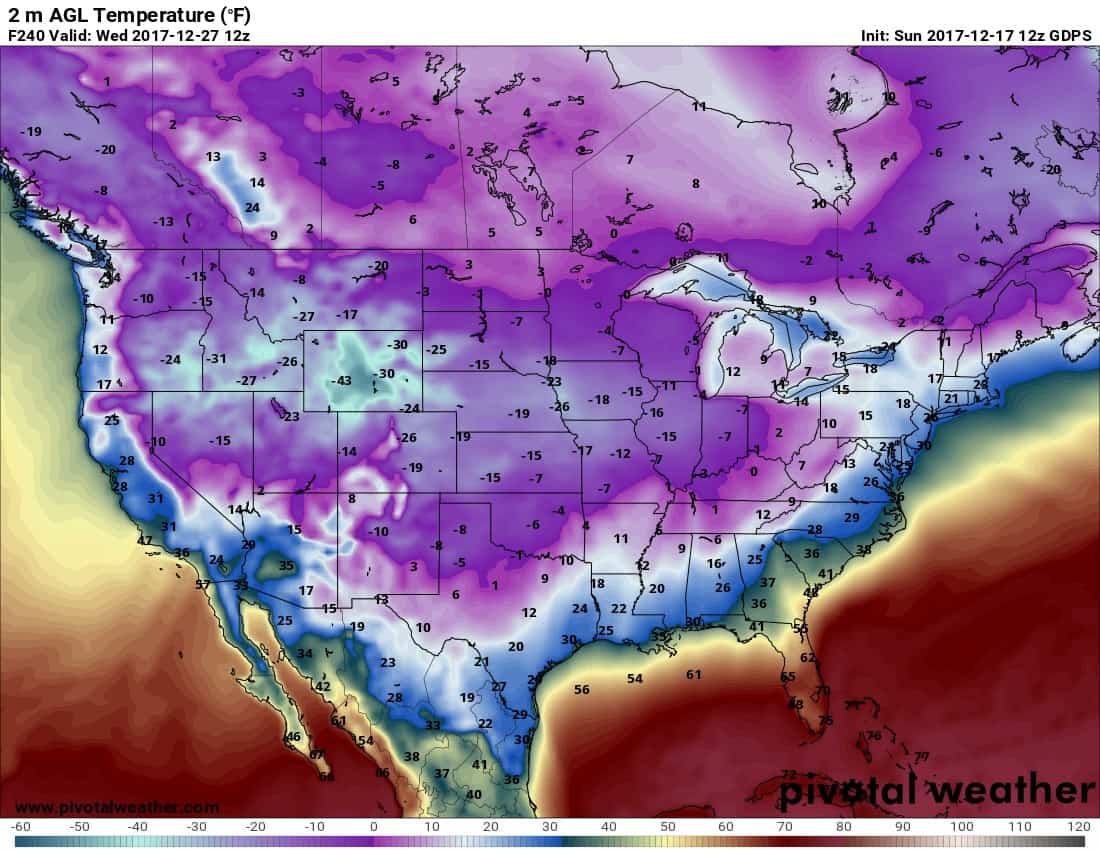 I'll start off by saying I have never seen the models perform this poorly for this long of a stretch. Each one has wild swings from one run to the next. And some of that just 6 hours apart! It makes my job impossible, but "I'm gonna do what they say can't be done" (smokey and the bandit ref) and give you an updated forecast. After all, inquiring minds want to know.
So the big change by the majority is to bring the polar vortex back west and south into the N plains Christmas Weekend. This brings in a mega 1070mb record high pressure system which is loaded with the coldest air possible. How cold? How does 2 degrees for a high in OKC sound, or better yet a low -6 degrees? That's pipe bursting cold! Seriously, if temps are below 15 degrees for a 24 hour period, that's when many lines start to break.
The first map is the representation of the surface pattern showing the ridiculously strong surface high. This followed by the upper air map showing where the vortex is located and how the jet stream will be in a favorable location to produce clouds and at least light precipitation across our area for Christmas. It's called the right entrance region. This area is divergent aloft which creates lift underneath to get air to rise to generate clouds and precipitation. Finally the last map will show the cold.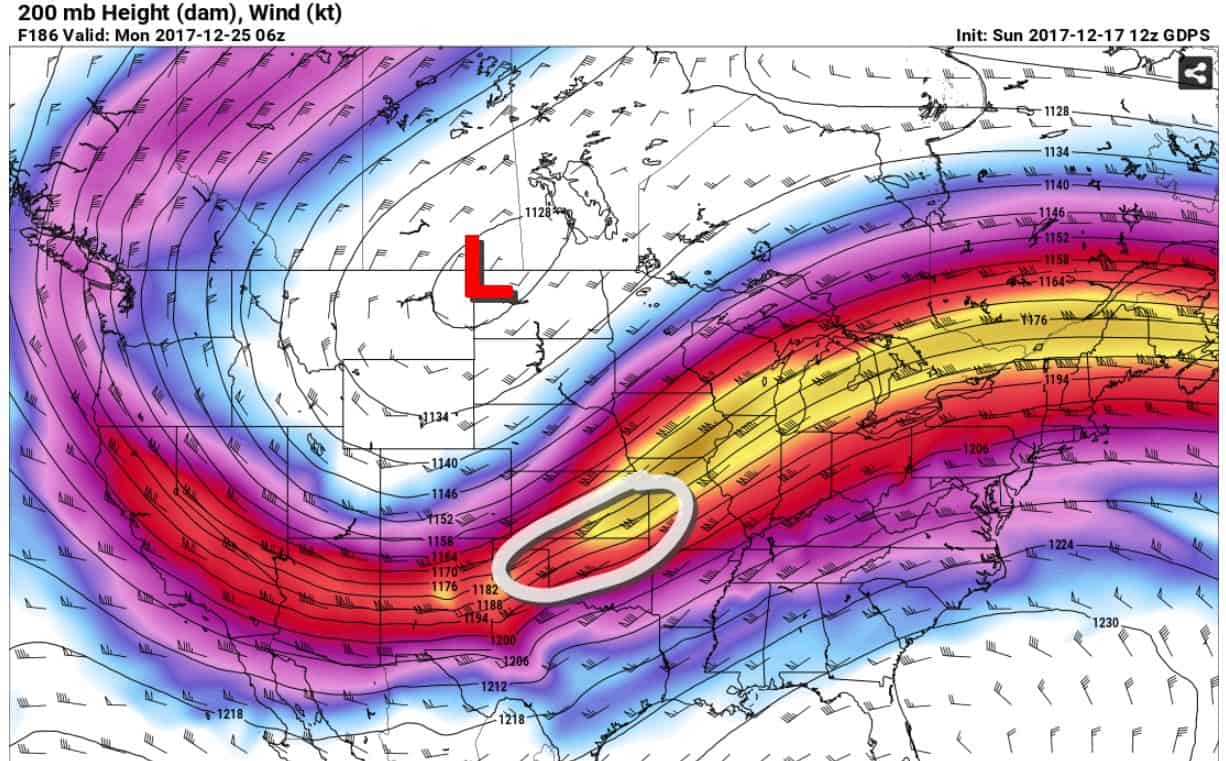 [su_spacer]
[ad id="1787″]
[su_spacer]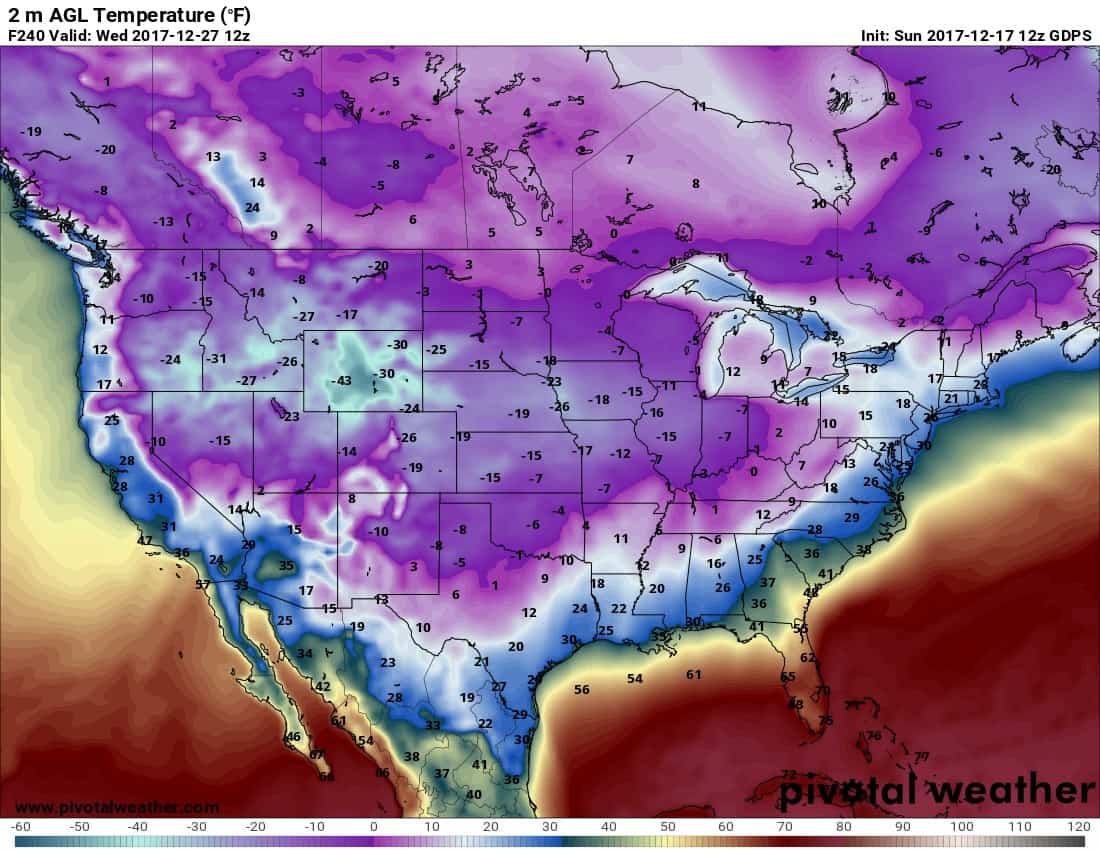 This region of bitterly cold air will start moving in on Sunday. Prior to that we're still going to get a strong cold front that will drop us below freezing. That one arrives Thursday. Let's just say you're going to need your winter clothing for awhile after the brief warm up the next few days. Should the polar vortex not retrograde, it will still be disgustingly cold, just not sub-zero.
As far as the rest of the forecast goes, still clear as mud. I don't want to change things too much from my prior, but I will massage the message. I have to follow the trends and as of now, I'm still going with light freezing rain for OK and N TX on Friday and even now lingering into Saturday before temperatures can get cold enough to transition over into snow. The snow window will be primarily on Sunday and Monday, then over. Earlier I had the higher amounts across S Oklahoma. The way the pattern is looking I would have to flip those to the N now as far as snow totals go. The freezing rain would be highest along the I-40 corridor down into N TX and the DFW region. Still plenty of time to work out those specifics, including how heavy it will be. If all of this is light, then the weekend isn't so bad, but if it's a heavy accumulation, then travel is an issue as well as power outages. I will be watching closely though for more freezing rain rather than snow on Sunday itself. These setups like to produce ice storms when initially the models think snow. So I'm a little nervous about that outcome.
Another note, this system is a long lived one, meaning the precipitation will come in waves, so expect several dry hours each day followed by either light or heavy precipitation in the form of a cold rain, freezing rain, sleet, or snow depending upon where you live. It's a complicated mess, but don't get lost in the specifics. Just have an alternate plan in place should the need arise.
Finally, be sure to download my free weather app, ATsWeatherToGo, from the app stores which will give you the weather all across the country. Just search for it by name.
Oh and before I let you go, we might get another winter storm just in time for New Year's Eve. More on that later. Let's just get through Christmas first.
[su_spacer]
[ad id="1787″]
[su_spacer]